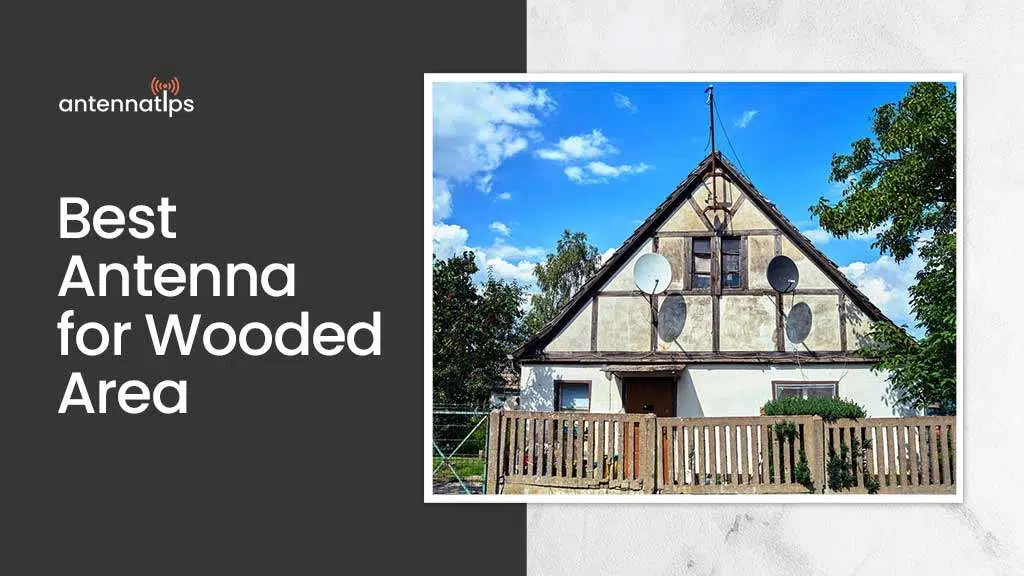 Hills, trees, and valleys can cause signal interference. Even mounting your antenna outdoors can be futile. You can still have a bleak signal, pixelated images, and patchy sounds. Not a pretty chillaxing night, right?
And forget about cable subscriptions too. It can be costly. And it does not guarantee it can get through the woods and the trees. So that's money down the drain. What you need is the best antenna for wooded areas. These outdoor TV antennas have a pretty good range. 
We are listing the best brands so you can enjoy movie marathons seamlessly.  Check out our top picks. 
In a Hurry? Check Out Our Top 3 Picks
Our Top 9 Picks for the Best Antenna for Wooded Areas (A Product Review)
Ready the chips and the booze! These antennas can indulge you in clear HDTV viewing and more.
This brand is an all-rounder.
Vansky has been topping our list more. And with its prowess, it can perform great even in covered woody areas.
Moreover, the motor rotor can turn this antenna 360 degrees. So you don't have to worry about your antenna getting tangled up in wires. 
If you haven't been picking up decent channels in your area, you can now enjoy tons, and that's with clear images and crisp sounds too. And it's easy to set up; it will only take roughly 15 minutes. 
Features
150-mile range
1080p HDTV and 32db high gain 
With a built-in low noise amplifier, 32.4 ft coaxial cable, and motor rotor
Wireless remote control
HD VHF/UHF Channels
Why you should buy this antenna
You can ditch your cable subscription and get more clear pictures with the Vansky outdoor antenna. 
It has a mid-range mile range, but it can sure pull in signals from all directions.
It's a multi-directional antenna. So despite a lower 70-mile range, it can still pull in many channels. You can enjoy crystal clear HD TV too.
This antenna is also sleek, so you can get rid of your stocky antenna that does not really serve you well. It has a small footprint, so it won't be an eyesore if you're going to mount it on your rooftops. It looks pretty sophisticated too. 
Features
70-mile range
Multidirectional
Comes with a 20" mount and all-weather mounting hardware
Lifetime warranty on parts
Why you should buy this antenna
It's a multidirectional antenna that can pull in signals even from the most remote areas. 
This antenna won't fail you even in a bad storm.
It can give you clear HD channels, and you can enjoy seamless watching even when it's raining. This antenna is well built and solid as a rock. It can withstand harsh weather.
The most prominent feature of this antenna is a black reflector. This also allows your TV to receive signals while getting rid of interference. And its ability to receive signals is unexpected, being a mid-range antenna. It can even surpass other long-range antenna's performance.
Also, it's very easy to install. You won't even break a sweat.
Features
Yagi design
75-mile range for UHF and 50-mile range for VHF
6-month limited warranty
Has a built-in transformer
Why you should buy this antenna
If you're in dire need of HD channels, this is for you.
This old-style antenna can give other modern brands a run for their money.
This channel Master antenna boasts a traditional design and redundant elements. It does not have any fancy features or a modern structure. But it does work well.
It's a multidirectional antenna and can pull in signals from all areas. It has an excellent range, especially if you're going to mount it 30 to 40 ft from the ground. It can give other 150-mile range antennas something to be afraid of.
Features
Multi-Directional antenna
80-mile range
3.5 dB VHF gain and 10dB UHF gain
Complete with mounting hardware
Why you should buy this antenna
If you want an old-school antenna that works, this is for you
 With the extra length comes impressive performance.
This antenna is pretty long, boasting 33 inches in length. The length of this antenna allows you to mount it higher, so you can get a better signal for both VHF, UHF, and HD channels. The only downside is that you won't be able to mount this indoors due to its length.
Moreover, it has zinc-plated hardware making the unit corrosion resistant. So it can last longer. It's ATSC 3.0 ready, so it can support 4K or even higher resolutions. So that'll make the couch potato in you really happy.
Features
65-mile range
Low-VHF High-VHF and UHF digital TV signals 
Length is 33"
Directional antenna
Zinc plated hardware
Why you should buy this antenna
It has an impressive range for both UHF and VHF signals.
Antop is the next-generation antenna.
Boasting a unique design and impressive innovative features, this can be the antenna of the future. It's equipped with almost everything you need to get clear HD viewing, a 4k HDTV viewing experience, that is. 
This antenna also does not need to be adjusted. Due to its 720-degree coverage pattern, you can forget about finding the ideal position to point to. Even if you are surrounded by hills, valleys, and mountains, you can still get a great TV signal.
Features
Dual omnidirectional antenna
UHF/VHF Reception, Full HDTV support 720p, 1080i, and 1080p
Built-in 4G LTE Filter
4K HDTV viewing experience
30-day money-back guarantee
Why you should buy this antenna
It's stylish, it's innovative, and it works rather well.
You can get great tv signals from multiple directions with this bowtie antenna. 
This antenna has amazing capabilities within its 70-mile range. And it can be used on more than one Tv simultaneously. You can enjoy 14-60 US channels; that's a lot even for a full-time couch potato!
This antenna is solid and well built. And you can instantly tell that it can last for years. 
Features
70-mile range
Lifetime warranty on all parts
full HD 1080P resolution.
Comes with DB8e Antenna all-weather mounting hardware and instructions 
Why should you buy this antenna
You can get as many channels as your heart desires.
Five Star antennas can pull in tons of channels.
And you might not even have heard of some of these channels up until now. This outdoor antenna is packed with so much power. It's 4k ready and gets a great signal for UHF, VHF, and HD signals.
It's also relatively easy to set up. And many users mentioned that it did work as advertised. So you're getting what you paid for. Moreover, it has weatherproof materials, so you can expect a durable and sturdy antenna.
Features
HDTV 4K,1080p,1080i,720p 
Built-in Auto Gain Control Chip with gain booster
360-degree rotation
200-mile range
4-way splitter
Remote control
Comes with 40ft Coax Cable, 4-way Splitter to watch 4 TVs, 15pcs Cable Clips, and J pole
Why you should buy this antenna
It's a 200-mile long-range antenna; need I say more?
You can get an extensive range of signals at an affordable price with this antenna.
If you're looking to save but want an antenna that has an impressive range, this is for you. The RCA Yagi antenna is our best budget option. And yet you won't be disappointed with its performance. 
It's 4k ready at 1080 p resolution and can pull in VHF, UHF, and HD channels. So that's excellent value for your money. Moreover, it comes with a signal finder. So you would be able to determine where to point your antenna to. You don't even have to do your research.
Features
4K and 1080p broadcast reception
70-mile range
Free RCA signal finder
UHF, VHF, and HD stations
Why you should buy this antenna
It's an affordable antenna with an impressive range. 
What to Look for When Buying The best Antenna for Wooded Areas (A Buying Guide)
The best tv antenna that can go through trees must possess these features
1. Weatherproof material
As if woods, trees, and hills aren't enough to cause interference, there you have bad weather. An intense rain can cause signal interference too. So you have to choose antennas that are capable of withstanding the harsh weather. 
2. Working frequency
Even If an antenna is rated 4K ready, if the working frequency is not at par, it wouldn't be able to give you clear TV signals. For most wooded areas, it's recommended to get an antenna with at least an 800 Mhz working frequency.
3. Types of antenna
Antennas are basically of two types, omnidirectional and directional. Omnidirectional or multidirectional antennas can point to several locations. Though it may seem like the best antenna for wooded areas, it still depends on your location. 
Directional antennas can also work even if they point to a single source only. If you know where the transmission tower is, you can still benefit from a directional antenna. 
You may also like: Best TV Antenna for Metal Roof
4. Range
The range pertains to the coverage of an antenna. Antennas suitable for wooded areas should have a pretty good range. You can choose from 50-200 mile ranges. Of course, the higher the range, the more costly it is. Though sometimes you don't need to get the longest one if you live near a town center.
Conclusion
Even if you live in a remote wooded area, you can still catch your favorite soaps in crystal clear pictures. Our picks for the best antenna for wooded areas will make it seem like you live near the town center!