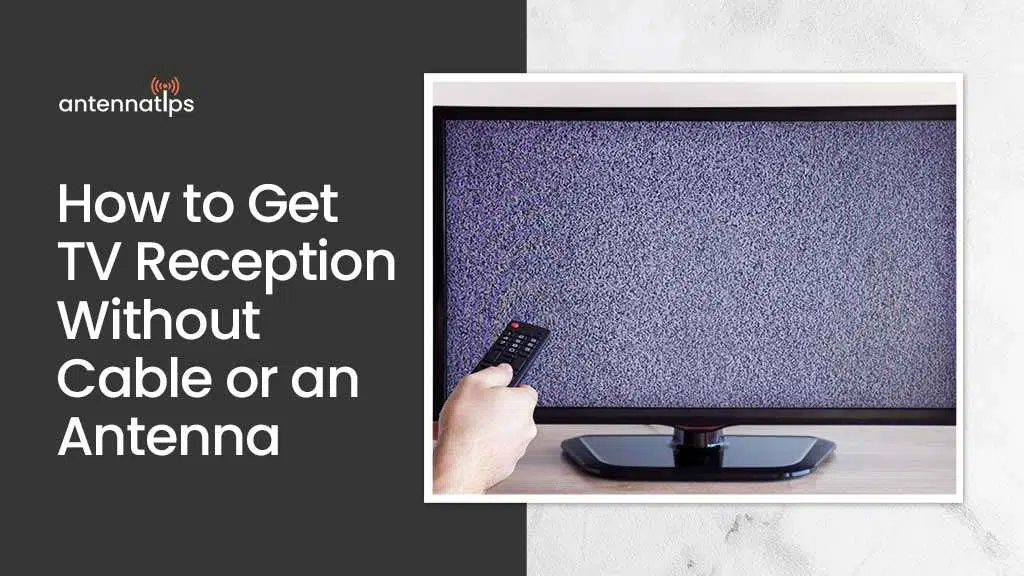 Nowadays, monthly cable subscriptions are not a necessity anymore. With technology evolving, you can enjoy watching HD channels even if you don't have a monthly cable subscription. You'd also save a lot. Since monthly subs can often have ridiculous fees, cutting the cord can lower your utility bills. Mounting an antenna is the next viable option to get TV and HD reception.
But what if you don't have an antenna either? Can you still watch even the local channels? Yes, you can. It might seem impossible, but yes. We're going to discuss how to get TV reception without cable or an antenna.
How to Get TV Reception Without Cable and Antenna by Using the Internet
If you have high-speed internet, it's quite easy to gain access to several local channels, even HD ones. Many are live streaming popular channels. So you can take advantage of this 
Sign up for Live Streaming Services
If you have a bit of moolah to shell out, subscribing to live streaming services might be a viable option. How much?
A monthly subscription to most live streaming channels is half the cost of cable subscriptions.
How to get local channels without cable? Local channels such as Disney, BC, CBS, NBS, and Discovery can be accessed by subscribing to YouTubeTV. In addition, it also offers a cloud DVR where you can record the shows that you miss. So there's getting more bang for your buck. 
If you find YouTubeLive, you can also sign up for Hulu TV. This costs less than Youtube. It also has a lot of channels but might lack some channels like MTV, PBS, and Comedy Central. But if you can get the channels that you often watch, this is a good option already.
If you want to lower the fees some more, Sling TV is the best option. It's half the cost of YouTube TV and HULU, but of course, it will also offer lesser channels. 
Get streaming devices
Streaming devices are convenient since they offer access to a ton of channels and including TV shows and movies. These live streaming devices allow you to gain access to popular streaming sites such as Netflix. Though you need to subscribe to these services. But the cost is relatively low compared to your cable subscriptions. 
1. Amazon fire sticks
Amazon fire sticks are the most expensive of the bunch. It also contains an Alexa voice built-in remote control. So this is a good option if you have a smart home with an Alexa ecosystem.
2. Roku
Roku is a more affordable option compared to the amazon fire stick. You just need to plug the device into the HDMI port of your smart device. And you can gain access to a plethora of movies and tv shows for a minimal subscription. 
3. Google Chromecast
You can access this service using your mobile devices and computer.  
4. Apple TV
Apple tv is the most expensive, but this streaming device can give you access to the most exclusive channels and movies. It can be connected with a monthly sub to gain access to more exclusive channels. But unlike cable subscriptions, you have an option on what channels to include in your subscription.
Buy a Smart TV Instead
You can connect a Smart TV to the wifi device of your home. Thus, it also allows you to gain access to streaming sites for free. 
How to Get TV Reception Without Cable, Antenna, and the Internet
If you have internet access, it's easy to watch local tv channels and even HD movies. There is an array of choices, as we have discussed above. But what if you don't have access to the internet, can you still watch TV without an antenna?
Yes, you can! How you may ask. By building your own antenna! 
You need to have the following: a digital TV, coaxial cables, and a homemade antenna.
Finding the location of the broadcast channels is easier now. You can hover through Station Finder. Just pop in your zip code and it will show which handles are available in your area.
Get a sufficient length of coaxial cable and connect it to the backside of your digital TV.
Keep the other side of the antenna dangling for now. 
 Turn on your TV and hover over to the setup menu. Press the option to scan channels.
While your TV is scanning channels, touch the other end of the coaxial cable with a coaxial pin. 
The scanning of the channels can roughly take up to 30 minutes. 
How to get TV Reception Without Cable or an Antenna by Adjusting your Antenna
Sometimes, all you have to do is point your antenna in the right direction. And you'll be surprised at how many channels it can pull in. 
Turn your TV off and unplug it from the power source. Plug the antenna's coaxial cable into your TV. You can use the same jack where you plugged the TV cable box.
Plugin the TV and enter the setup menu. Change the antenna selection to air from the cable. Then start to scan for channels.
Once your antenna picks up signals and channels, you're done. If not, head on to the next step.
You can also buy a set-top free to air digital-antenna. Change the selection to air from cable and rescan for channels.
If nothing happens, you can plug in an amplifier. This will make your antenna more powerful in picking up channels.
Conclusion
A lot of TV channels are now going online. That's why you can say that cable subscriptions are slowly becoming a thing of the past. Watching TV without cable subs has become the norm nowadays. 
Even without these expensive services, you can still gain access to a plethora of local TV channels and movies. Quite amazing right? And for some streaming services, you only need to pay a minimum fee.
Thanks for stopping in to read How to get TV Reception Without Cable or an Antenna!