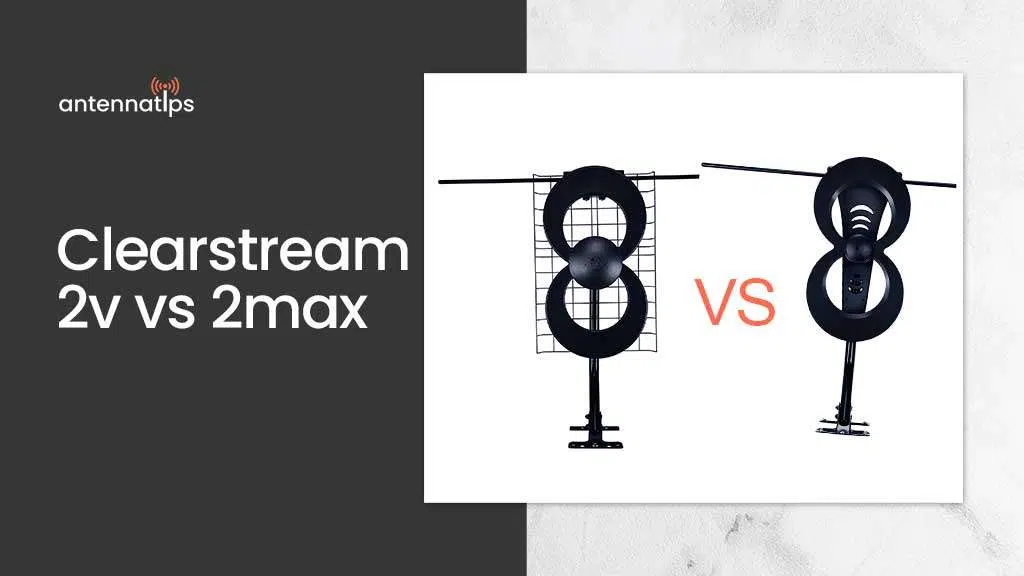 Clearstream 2v vs. 2Max? Both are great options if you want a sleeker and more compact Clearstream antenna.  But it can be confusing to differentiate one from the other. They have a lot of similarities. In addition, their differences are marginal, as if they're two peas in a pod. So in our article on Clearstream 2v vs. 2max, we'll help you pinpoint which antenna might work better for you. Keep scrolling to find out now!
Clearstream 2V vs. 2Max Which Antenna Can Give You a More Pleasurable Viewing Experience?
The Similarities

Sale

Antennas Direct ClearStream 2V TV Antenna, 60+ Mile Range, UHF/VHF, Multi-directional, Indoor,...

Best performance among all Antennas rated in the 60 Mile category [note: location, obstructions, and building materials affect reception].Connector...
Receive free TV from networks like ABC, CBS, NBC, Fox, CW, PBS, Univision, MeTV and more in FullHD 1080 where available
Dedicated UHF and VHF multi-directional elements deliver range and reception in less than ideal locations
Includes clear stream 2V antenna, 20in mount, all-weather mounting hardware, and instructions (coaxial cable sold separately)
Note: your location, obstructions and building materials will effect reception; try placing your antenna in several locations to find the best...
Versatile
High Gains
Both the Clearstream 2v and 2max have high gains. So this makes these antennas suitable for rural areas. 
App compatibility
Both sleek Clearstream antennas are compatible with Antenna Point App. This is very useful and will help you find the exact location of broadcast towers. While you don't need to directly point the antenna in line of sight to the broadcast towers, doing so will help maximize your antenna's capabilities. So why not take advantage of the app, right?
Especially if you want to watch full HD channels, this app will come in very handy.
Other similar features
Both antennas range 60 miles, so both are considered long-range antennas.  And when you purchase each antenna model, you get the same hardware and accessories, except for the stand mount. Just note that, like other Clearstream antennas, you must buy a  separate coaxial cable.
Also, you can enjoy the same lifetime limited warranty on all parts. This is one of the advantages of buying a Clearstream antenna. You can get more bang for your buck with the generous warranty.
Some Differences
These can be marginal, but they can mean a lot to you, depending on your location.
The Clearstream 2max is less directional. Though both are omnidirectional antennas, the 2max allows more antenna positioning flexibility. This can be better for those who live near the metropolis since you're more likely to know where the transmission towers are.
The 2max may come with an indoor stand, whereas the 2v lacks it. Both antennas come with a J pole, so you can easily mount them on your roof. The 2max, however, adds in a little more extra. The indoor stand will make it easier to mount the 2max in your attic. So it can be better if you mount an indoor antenna and don't want to buy additional hardware. 
In terms of the design, they look a lot similar due to the patented loop design. The difference lies in the mesh back reflector found in the 2v.
The 2v contains a reflector. So this makes this antenna model more capable of pulling in more channels. 
The reflector in the 2v can enhance the antenna's capacity to receive more precise signals in both UHF and VHF frequencies. It also blocks out multipath interference. So you can expect clearer images if you use the 2v in some areas.
The 2 max is more compact and lightweight. Hence, it can be better if you want a sleeker antenna.
The two max costs more than the 2v.
Do I Need a Clearstream 2v Antenna Amplifier?
The design of multi-directional antennas makes it possible for these models to receive signals from all directions. So in most cases, you might not need an antenna amplifier. But if you notice weak channels, an amplifier can help your antenna receive more precise signals.
But use an amplifier with caution. If you are near a metropolis where broadcast towers are everywhere, using an amplifier can cause a distorted noise. Hence, an amplifier is only applicable if you live far away from the urban zone. Ditch the amplifier if you are within the 10-mile range of transmission towers. 
You may also like: Clearstream 2 Max Reviews
Clearstream 2v vs. 4v
Both Clearstream antenna models are suitable for rural areas. These powerful antennas can pass through thick foliage and heavy roofing materials. But what makes it different from the other aside from the number?
For instance, the 4v is a longer-range antenna. Though the 2v is already considered a long-range antenna, the 4v has a maximum range of 70 miles. Thus, it will also have a higher gain at 12.25 decibels. 
As for the design, both have the patented loop design and a mesh reflector at the back. The 2v is a more compact design and lighter one. It has two loops, while the Clearstream 4v is equipped with four loops. 
So is it always better to get the antenna with the highest gain and the longest range?
Antennas with a higher gain and a longer range will cost more. Therefore, it would not make sense to get a Clearstream 4v if you already have a pleasurable viewing experience with the 2v.
You would just be paying for a product that you don't need. It would be overkill. Therefore, if you don't live far away from the metropolis,  and you have finally made your decision on the Clearstream 2v vs. 2max theres only one thing left to do. Buy one of them, which ever way you decide you simply cannot lose on the  Clearstream 2v vs. 2max no matter what you decide!
Conclusion
In a nutshell, when comparing these products, there is not much difference between the Clearstream 2v vs. 2max. The 2-max could be a better option if you're looking for a more flexible multi-directional antenna. And since it includes a stand, this could be a more economical option if you want to mount the antenna indoors.  
But if you're located far from the metro, the 2v is a better option. Since it is multidirectional and has a built-in reflector, you can expect to receive more precise signals. Though you can always opt to outfit your 2max with a reflector, you must buy a separate one.