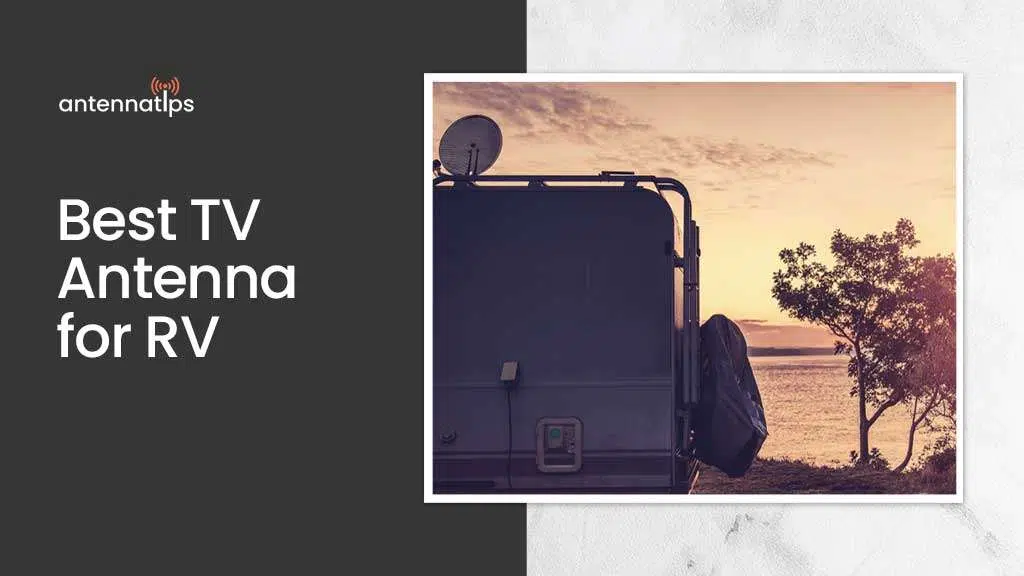 For an active television connection, you would require a good RV TV antenna. Since going on an RV trip is not something we do every day, people might find it difficult to know which is the best TV antenna for RV. Going on a road trip in an RV is a dream for many people out there. Wandering around from cities to small towns, spending time with nature, meeting new people, all of this sounds pretty amazing, but it's difficult to cut out everything from your daily modern lifestyle.
For that reason, you might also need a radio or television connection to keep in the loop with what's happening around the world and also to keep up with your favorite shows.Keeping this in mind we made a list of some of the best RV TV antennas that can be the perfect choice for your upcoming road trip.
The Key Aspects of a Good TV Antenna for your RV

Before you go on with our top 10 picks, let us acknowledge a few important factors that can be a decision-maker in your search for the best RV TV antenna.
1. Reception – This is the make or break factor that determines the quality of the RV TV antenna. You need a strong and stable reception to enjoy your favorite TV channels even while traveling.
2. Portability – You need a portable and lightweight antenna so that you can easily carry, install and reinstall on different RVs when you are going on a road trip.
Top 3 Picks in Case you are in a Rush
Top 10 Best TV Antenna for RV
In this list, we have reviewed some good TV antennas for your RV that will give you an uninterrupted connection with which you can enjoy watching your favorite shows, news, and movies while you are on the road wandering around the countryside.
Winegard has been one of the A-listers in the antenna industry for a long time now and they are known to produce the best radio and TV antennas. 
Winegard has been one of the A-listers in the antenna industry for a long time now and they are known to produce the best radio and TV antennas. 
One of the prominent features that you'll notice in this RV TV antenna is that it has a range of 55 miles. So 9/10 times you will surely get good signals to enjoy your television wherever you go in high definition quality. In addition, it also features an amplifier that will pick up even the weakest signals in relative proximity to the antenna.
The antenna is capable of receiving UHF as well as VHF signals.
Another great thing about this antenna is that it is designed to go through hazardous weather conditions and it doesn't take a lot of wear and tear from frequent traveling.
It is also extremely lightweight which makes it easier to carry and install whenever and wherever you want. 
Another big bull in the antenna industry who never fails to deliver. This antenna by King is loaded with features that keep on insisting you buy it. The design is very compact and sleek and it feels like just a part of your RV after installation.
The installation process is super-easy, all you have to do is properly follow the manual they give with the antenna.
This antenna is much more compatible with UHF signals and gives you the best quality DTV channels. Along with that it also supports VHF signals that improve the array of channels you can watch on TV.
Its small size is an advantage and keeps it ahead in the race of best TV antenna for RV.
One of King's specialties is its compact, lightweight, and stylish designs that every RV owner would love to have. This antenna by King is known to have the best technological edge over all its competitors. It has a good reception ability that brings to you a large variety of your favorite TV channels in HD quality.
The assembling and installation process is also very easy and doesn't require any professional help. 
One unique feature in this antenna is the signal finder, which helps you locate all the possible signals which are within the range of the antenna and therefore you get lots of TV channels at any place you go. Also, do not get fooled by the small size of this antenna as it is capable of delivering good reception at a very long range.
The antenna can move 360 degrees so that you don't miss out on any signals around your RV.
The antenna comes with a 4-year warranty that would be loved by many people who wish to buy a product in the long run.
This one is an omnidirectional RV TV antenna that is capable of capturing the most amount of signals within its radius due to the 360-degree reception ability. 
There's no doubt this antenna will give you a wide range of TV channels as it is not confined to work only in one direction and also features a dipole that makes sure the antenna receives the best quality signals.
The range of this antenna goes up to almost 130 miles, very few other RV TV antennas even come close to that range. Adding to that it also has an amplifier that can stabilize any weak signals and give you improved quality on TV.
This antenna can also go through tough weather conditions with the help of its Ultraviolet proof and water-resistant coating.
With such impressive coverage and good reception quality, it makes this device one of the best TV antenna for RV.
This antenna from Winegard is a great choice for someone who doesn't know how to use RV TV antenna. It is very affordable and has an easy installation process that any new person can do.
The installation process involves just three simple steps
Open the antenna
Remove the rubber bumpers from the bottom
Align the bummer holes with the antenna's holes and you are good to go!
It also has a good range and is used by many travelers who love to go deep into the wild away from all the hustle-bustle. The antenna is capable of giving the best reception quality which provides you multiple choices of channels.
The antenna comes with free OTA programming that gives you many free channels that include sports, news, music, movies, and many more.
This antenna has a very lightweight design and makes it very easy to carry a portable antenna. The Tailgater is known to deliver the best quality of HD signals wherever you travel in your RV.
It is very easy to set up and also has an auto-aim assist feature in it which helps it to find the best quality signals around it. The antenna also supports multiple TV viewing at one time and makes it ideal for use on a family trip with the RV. 
One very useful feature of this antenna is that it can also support a wifi connection with its Wally HD receiver. The antenna is completely powered through the receiver itself and does not need any power source.
If you are looking for an affordable purchase that doesn't compromise on quality, then look no further than this antenna by Magnadyne. This antenna is not only just affordable but also has multipurpose qualities in it. This antenna can be used in an RV as well as on a fishing boat and it works well on both of them.
It is very durable and comes with UV protection and a weatherproof coating that keeps the antenna in proper shape even through bad weather conditions.
It comes along with all its necessary hardware parts and a manual which makes it easy to install this antenna in no time.
Another great thing about this antenna is that it is also compatible with your radio systems, so you can enjoy watching your TV and listening to your radio with the same antenna on your RV.
No products found.
This antenna has a very stylish and sleek design that looks very good on your RV. The antenna is also extremely easy to install and can be done by a single person. In fact, the installation process of this antenna doesn't even require any kind of tools.
It has an omnidirectional range that can easily capture UHF, VHF, and FM signals that are within its radius. The design looks like a mushroom that can give you a good 360-degree reception all around it.
The device is weatherproof and can function smoothly even in rain and snowfall. It is also resistant against Ultraviolet Rays that might damage the antenna.
It has a fully functional built-in amplifier that stabilizes all nearby weak signals and gives you clear quality on your TV sets.
By just looking at the design of this antenna it looks like a very compact and stable device. At whatever speed the RV might be, this antenna will make sure it does its job with the same intensity.
The antenna comes with a magnetic base and therefore makes the installation process very smooth and hassle-free. 
It is omnidirectional as well as has an in-built amplifier which makes sure that the reception would be fantastic wherever you go and the antenna will provide you the best quality audio and video on your TV.
Finding channels is also not too difficult with this antenna, all you have to do is run a channel scan that receives all the nearby signals and gives you all the available channels in moments. 
This antenna is very special from all of its competitors because it is capable of delivering DIRECTV HD programming. This makes your life much easier because the antenna tunes into various channels by itself. 
It is one of the widest antennas on this list and is designed like a traditional Dish antenna. Though the design is a bit bigger in size, it provides the strongest quality of signal than most RV TV antennas.
The installation is not so easy as we saw in other smaller devices and sometimes you might also need the assistance of a professional, but once it is installed you have to just switch on your TV and watch your favorite channels without any interference.
The antenna is a bit heavy, so make sure you take safety precautions while installing it.
Buyer's Guide
Many of you must've already found the ideal device after going through our illustrious list of Best TV antennas for RV. For others who still aren't sure about the numerous features and technicalities of a good RV TV antenna, should go through our buyer's guide to make things easier for you.
1. Range
A good coverage range in your RV TV antenna is very crucial. When traveling from place to place you might sometimes go off the grid in the countryside and getting good reception might be a problem. Therefore a range of more than 40 miles is recommended for your RV TV antenna. 
It's good to have an omnidirectional antenna so that it can give you 360-degree surround coverage and you won't have to manually change your antenna direction now and then. Omnidirectional coverage also makes sure that you don't miss any spots for signals.
2. Installation Process
While traveling in your RV, you would definitely like to have an antenna that is very easy to install without anyone's help and without any professional tools.
It is great if the antenna comes with all its necessary hardware, mount, and cables so that you don't need to run around different stores to find it.
Installation manuals also help a lot to give you step by step understanding of the whole process and you won't require any professional help.
3. Durability 
When you are on a road trip in your RV, you are bound to face lots of weather hazards that might damage your antenna and also affect its functioning. A strong external structure is necessary so that it can counter any kind of damages.
Look for an antenna that is weatherproof, dustproof, water-resistant, and also protects from UV rays. 
The material should also be made of strong quality so that it does not bend or crack due to windstorms.
Also, see if the antenna comes with a warranty that can help you to replace parts in case of any serious damage.
4. Weight
The ideal weight of your RV TV antenna widely depends on the type of antenna you want to have. Outdoor antennas would be mounted on your RV and therefore you need a strong and sturdy design that can hold itself stable in the wind. So an outdoor antenna can be a bit heavier. 
If you want to have an indoor antenna in your RV, it should be fairly lightweight for you to carry from one place to another. 
5. Wifi Compatibility
Why buy two products when one is capable of giving you the abilities of both. Many RV TV antennas nowadays are compatible to capture wifi frequencies too. It is always good to have an internet connection even if you are on an off-the-grid trip. 
Types of RV TV Antennas
1. Outdoor RV TV Antenna
Outdoor antennas are installed at the top of the RV with the help of a mount. Being at a good height this type of antenna is capable of receiving better signals without any obstructions or interference. 
They are usually heavier in weight and wider in structure. They are a bit difficult to install and can sometimes require help from professional people. These antennas are mostly weatherproof and offer good durability.
2. Indoor RV TV Antenna
Indoor antennas are much smaller in size, compact, and easy to carry. The coverage range is comparatively smaller than outdoor antennas but they have a relatively easier installation process.
The material of an indoor antenna is not that strong and durable, so keep in mind to inspect it frequently for any issues.
3. Digital HDTV Antenna
If you don't want to miss your high-definition television action on your RV trips then you should definitely opt for an HDTV antenna. These antennas have the capability to receive UHF as well as VHF signals and you can also watch live broadcasting channels such as FOX and ABC network. 
4. Satellite TV Antenna
These type of antennas require a satellite connectivity subscription. The reception gets much better with a satellite connection because the signals are pretty much uninterrupted. The only downside is that you will have to keep paying for your satellite subscriptions.
How to Install an RV TV Antenna
1. Choose your antenna
First and foremost select an antenna that is best suited for your use and for your RV. You can choose between an indoor and outdoor antenna based on how much range you need, the weight of the antenna, and the ease of installing. 
Go for an indoor antenna if you want a portable design that is easier to install. An outdoor antenna is preferable if you want a longer range and a durable design.
2. Unbox and assemble
Unbox your RV TV antenna and assemble it with the help of the user manual. Most antennas come with all their hardware parts but for some, you might need to buy parts from the store. You can always call professional help if the assembling process is a bit tricky for you.
You may also like: How to Improve FM Radio Reception
3. Connect the cables
Connect all the cables properly to their designated places and see if there is anything missing. Connect the main cable to your television set which will deliver the broadcasting signals.
4. Mount your Antenna
Mount your antenna on the top of your RV if it is an outdoor antenna, in case of an indoor antenna, place it in a good position where you can receive better reception.
5. Run a Channel Scan
Once you have connected and mounted everything correctly, plug in your antenna to the TV and run a quick channel scan. You might have to do this multiple times to get the right signals. You can change the direction of your antenna each time you run a scan. Once you get access to all your channels without any distortion or interruption, then you are good to go.
FAQ's:
Conclusion
All of the devices we reviewed were all good in their own way and it is quite difficult to choose the best TV antenna for RV. You can pick any of those to accompany you on your RV trips without thinking twice. With the help of a buyer's guide, you can also access your needs and choose accordingly.