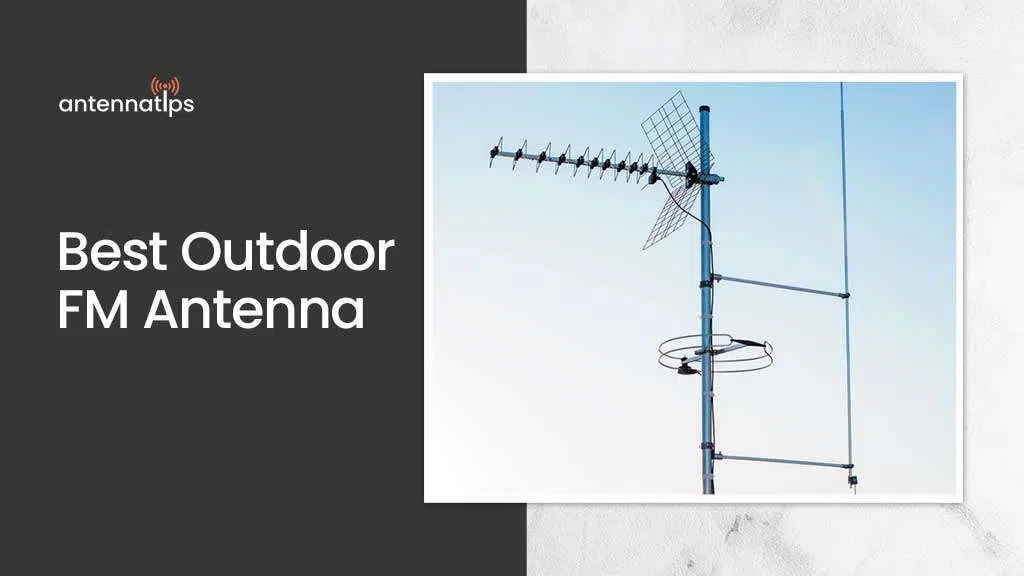 While most people in this world are busy with their daily social media saga and bingeing web series on their tabs, there are still people who prefer listening to the radio. People in small towns and villages aren't amused by Instagram trends and Game of Thrones; they still love listening to the variety of talk shows and classic old music that comes on the radio.
People who live far from the city don't have many broadcasting centers nearby, so they need the best outdoor FM antennas that can work long ranges and let them stream a wide array of radio channels without any disturbance.
We will be taking a look at some of the best outdoor FM antennas that are available in the market and reviewing them to find out which one stands tall among all of them.
Important Aspects of a Good Outdoor FM Antenna
Before diving into our list of best outdoor FM antennas, let's understand what the prime factors that make an ideal outdoor FM antenna are.
1. Reception Range
This is something that shouldn't be compromised on while buying an outdoor FM antenna. A solid range will make the antenna receive signals from more broadcasting stations and give you a wider range of channels.
2. Durability 
Being an outdoor antenna, it will be going through weather changes, lots of dust, animals pestering around it, and many other external forces. Therefore a strong and durable antenna is a must.
Top 3 Picks in Case you are in a Rush
Top 9 Best FM Antennas for Outdoors
This list consists of some of the best outdoor FM antenna reviews that will help you pick the perfect outdoor antenna for you. In the reviews, we will share with you the best features and possible downsides of each product.
This antenna by Tesslor-USA is one of the best outdoor loop antennas that are available. This antenna is ideal for installing on your house and office roofs as well as on your motorhomes. 
The antenna has a strong external structure of the best quality materials. Though it is very large in size, it is pretty simple to assemble this antenna by yourself. The large structure and wider diameter make it a good long-range FM antenna and provide better reception quality.
This antenna features an integrated balun system that brings you the best signal quality without any interruption.
All the installation materials and hardware are available with the antenna itself, so you don't have to search for it in stores around you. 
If you want to install this antenna at a good height, ensure you take proper precautions for your safety.
Best Features
Strong and durable structure
Built-in integrated balun system
Excellent reception 
All parts of hardware come along with the antenna
In the race for the best outdoor FM antenna, this one has made a mark for itself with its unique capabilities of working effortlessly with radio and televisions to provide the best high-definition reception.
This antenna has an impressively long range and gives you seamless signal strength even from a distance of 200 miles. The device has the best quality copper cable inside that ensures the crisp quality of the signal without any disturbance. 
If you have a big house with lots of family members, then this can be the ideal antenna for you. This device can work with up to 5 devices at your home, be it radio or television.
One special feature of this antenna is the auto gain control chip that does the job of getting all the possible channels around you with the best signal strength. 
Best Features
Works with both radio and television
Very durable and can counter tough weather conditions
360-degree motorized control 
The auto gain control chip 
Excellent range of up to 200 miles
This FM antenna is slightly different from all the others on this list. The AntennaMastsRus is specially designed to work with marine applications. So if you are someone who loves to go on fishing trips, then this antenna is perfect for you because it gets quite boring out there at the sea, holding the fishing rod for hours. 
One thing that you don't have to worry about is the rain; the device is completely water-resistant and is designed to work properly even with a few splashes on it.
Being a specialized marine antenna doesn't mean it won't work on land. This antenna gives the same results in your stereos at home and in your vehicles.
The antenna has a 55-inch long wire that helps you connect it anywhere you want. It can easily be adjusted to 90 degrees on both sides to get the best reception.
Best Features
Durable design
Water-resistant 
Very versatile 
This device from Stellar Labs is an outdoor omnidirectional FM antenna that gives you a good 360-degree surround coverage to get stable reception from all nearby broadcast stations.
The antenna is motorized to move and catch the best possible signal that comes with minimal disturbance. It can easily catch even the weaker signals with a lot of ease and provide them stability.
This antenna is fairly bigger in size and has a body of stainless steel coated with waterproofing technology. It is very easy to assemble and install with the use of its installation manual.
It supports radio frequencies from 87.5 MHz to 108 MHz without distortion, and therefore, you can enjoy a large variety of channels with this antenna at work.
Best Features
Omnidirectional design
Durable and can resist bad weather
360-degree coverage 
4 dB auto gain technology
One of the best antennas for the easy installation process. The Winegard HD-6010 is a very compact and durable antenna with a one-piece external structure that can be easily installed anywhere.
The most prominent feature of this antenna is that it can provide you with the experience of HD listening through your radios. The antenna can receive high-definition signals and therefore gives you many channel options to choose from.
This antenna can rotate in all directions to look for the best quality signal that enhances your listening experience with a minimal amount of distortion. It can easily access all the FM broadcasting centers that are within its reach. The antenna also catches signals that are weaker and unstable.
Best Features
Compact and single-piece design
Very durable and weatherproof
Easy to assemble
This antenna by Jensen has the ability to pick up all the weak signals around it. It turns those weak signals into a much more stable and crisp audio output on your radio systems.
It has a built-in amplifier that helps the weak signals gain enough stability to function seamlessly.
The antenna also ensures that the signals have less distortion and provide a clear sound experience to the listener.
It comes along with all the necessary hardware parts that are needed to assemble and install the antenna. It also has ready-to-stick foam on the body, which can be attached anywhere you want. A 2-meter cable also comes along with the antenna, which allows you to install it anywhere and also extend its range.
This outdoor antenna has a sturdy design which makes it durable and helps counter any weather hazards. 
Best Features
In-build amplifier 
Very easy to install
Good range
Tough and durable design
Another great outdoor FM antenna has an in-build amplifier that boosts the weak signals and gives a clear and crisp audio output. The design is very compact and easy to carry if you wish to take this along with you in your motorhome. 
The installation process is super easy; all you have to do is just plug in this device and switch on your radio to enjoy the best quality audio to watch your favorite channels.
This antenna has a decent range of up to 50 miles and can easily receive signals from all broadcasting stations in that range. It has a multi-directional reception that allows it to catch as many nearby signals as possible.
The FM frequency range of this antenna is from 87 MHz to 108 MHz, and the AM range is 520-1650 K.
Best Features
Easy to install
Built-in amplifier
50 miles multi-directional range
This FM antenna is one of the most easy-to-install devices among all the antennas on this list. This antenna has a magnetic base and is easy to carry and install again in a new place. This type of antenna is ideal for people who frequently change their homes. You can easily make its magnetic base cling onto any surface and then remove it easily as you do with suction cups.
The range of this antenna is very impressive, and it also has a 10 feet-long extended cable which adds to the range of this device. The antenna also features a gain of 7dB that helps it capture weak signals around it with lots of ease.
The antenna comes with a lot of different types of adapters with which you can connect to a lot of different systems.
Best Features
Very easy to install and re-install
Good range 
Great compatibility due to lots of available adapters
The HUAFADA Universal antenna is specifically designed just for your vehicles. It is very important to have a good FM antenna booster in your vehicles while traveling so that you don't miss out on your favorite shows and songs on road trips.
This antenna is easily compatible with all types of radio systems in your vehicles. The installation process of this antenna is easy as pie. All you have to do is plug into the antenna jack on your system and find a good spot in your vehicle to stick the antenna where it receives unobstructed signals.
The antenna enhances the signal strength and minimizes disturbances to give you an uninterrupted and precise reception on your stereos. 
The device is very compact and has a 3-meter-long cable which makes it easy to install it anywhere in your vehicle. 
Best Features
Universal compatibility
Compact design
Very easy to install
Works perfectly on any vehicle
Buying Guide
If you have found the best outdoor FM antenna from our above list, then congratulations! But if there are still a lot of questions in your mind with regard to the perfect outdoor antenna, then no worries. We aren't going anywhere until we find the best antenna for you. Let's understand how to pick a good outdoor antenna.
1. Range
This is the most important thing to be considered before purchasing an outdoor FM antenna. The average range of reception you get in antennas is 50 to 70 miles in radius. 
Devices that are omnidirectional have a better surround range because they can capture signals around them in 360 degrees. 
The Five Star FM antenna has a very impressive range of 200 miles, and it can easily receive signals from lots of broadcasting stations. 
Antennas with in-built amplifiers can also be very useful to enhance the range and try to catch weaker signals.
2. Assembling 
The assembling and installation process of antennas should be very straightforward and easy to do without any professional help. It is an added bonus if all the hardware parts are available with the antenna itself. 
If the installation process is easy, you can carry your antenna wherever you go without any worry about re-installing it.
Make sure you take safety measures while installing your antenna on rooftops.
3. Design
The choice of your antenna design completely depends on your personal requirements.
If you want an antenna just for your home, then any strong and sturdy antenna with a good range will be ideal. But if you wish to carry the antenna with you on motorhome trips, then you should go with a compact design that is easy to install.
4. Durability
For an outdoor FM antenna, it is important to have a durable structure. The outdoor antenna would be facing lots of weather hazards and can result in wear and tear. Look for an antenna that is water-resistance and dustproof. The material of the antenna should also be strong enough to sustain strong winds. Weak material will bend easily in case of a windstorm.
5. Sound Quality
The antenna should give a clear and crisp output from your radio with a minimum amount of disturbance. An antenna with an amplifier is recommended to improve the sound quality. The amplifier stabilizes all weak signals and makes them sound much better.
Types of Outdoor FM Antennas
To understand which is the best outdoor FM antenna, you need to look at the different types of antennas available before taking the final call. So let's have a look at the types of outdoor FM antennas.
1. Unidirectional Dipole
As the name suggests, this type of antenna receives a heavy concentration of signals from just one direction. The average range these types of antennas have is around 20 to 30 miles. You can use this antenna if a large number of broadcasting stations are situated in a single direction. Though this antenna functions only in one direction, it packs a good amount of gain that results in crisp outputs.
2. Crossed Dipole
Unlike unidirectional antennas, this one is designed to capture signals from multiple directions. It is often called omnidirectional reception as it can receive signals from all directions. It has a relatively low gain which can go down to -3 dB.
3. Multi-element Array
This one is also a unidirectional outdoor antenna, but it has a better gain than a normal unidirectional antenna. It has the capability to receive signals from broadcasting signals that are far away. 
The only downside to this antenna is that it functions only in one direction, and therefore you have to rotate it every time you want to receive signals from some other direction.
How to Fix the External Structure of an Fm Antenna
The body of an outdoor FM antenna is usually made of materials like stainless steel and aluminum. Due to harsh weather conditions or wind, the body of the antenna might bend or crack sometimes. But it is not difficult to fix it if you follow these easy steps.
1. Inspect the damage
Have a proper look at the amount of damage the antenna structure has received. A minor bend can sometimes be fixed by using heat and getting the shape back. In case of a crack, you can use aluminum foil to cover the damaged area. In some cases where the damage is serious, you will have to replace parts or even change the whole antenna.
2. Fixing a crack 
You can use aluminum foil to fix a crack in the antenna rod or any other structure. 
You must use a single piece of foil to wrap around the damaged part.
 Use your fingers to properly cover all open ends on the crack. You can then use tape to keep the foil in place. 
3. Fixing a broken end
In case of a broken part in the antenna, you can use the material from a soda can to repair it. 
Cut the soda can in a spiral manner and flatten the strip using any heavy object.
You can then use these strips to roll around the broken and unbroken end of the antenna and then connect it together using tape.
4. Fixing a bend
This is the easiest damage to fix in your outdoor antenna.
All you have to do is heat the damaged area carefully with a light torch by taking proper precautions so that you don't damage any wiring or cables around the area.
After heating the bend, you can use pliers to bring the bend back in position.
You can use tape or paint to cover any mark left due to the heat.
FAQ:
Conclusion
That was pretty much everything you needed to know on your quest to find the best outdoor FM antennas. We hope you have found your perfect antenna, and also, you would've got to learn a thing or two about outdoor FM antennas. Now you can go back to enjoying your daily radio show sessions.