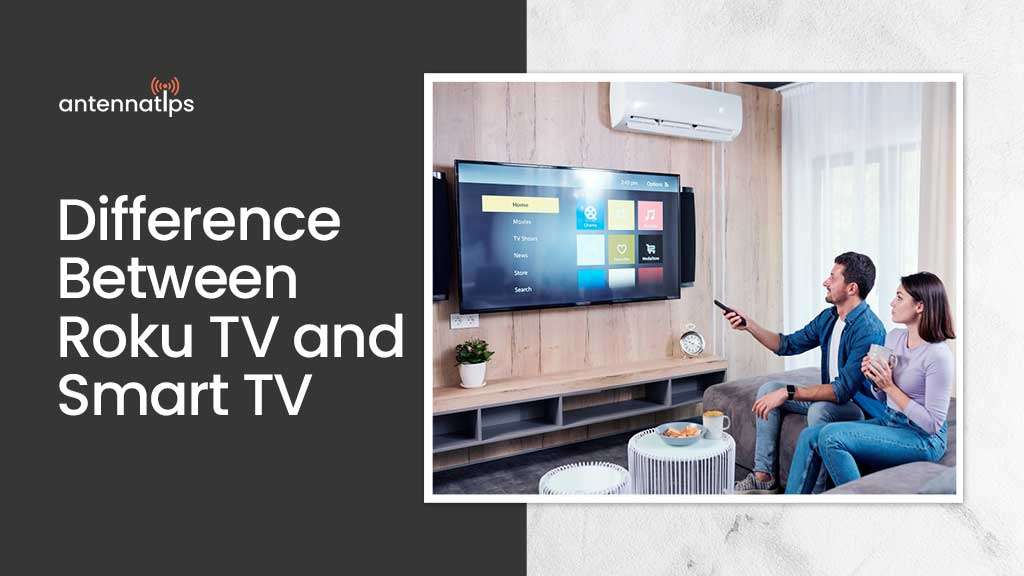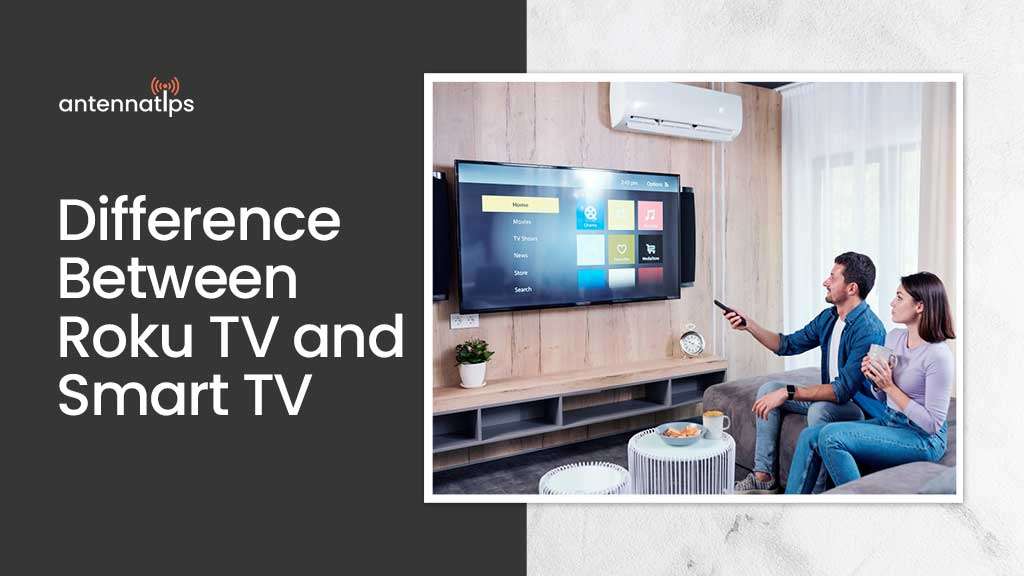 Let's compare briefly to better understand the difference between Roku TV and Smart TV.
Gone are those days when you would make a proper schedule in your daily routine to watch your favorite TV show in the evening after getting back from work. This is the generation of on-demand shows and movies you can watch anytime and any day whenever you have some free time. All you need is a smart television with a good internet connection, and you are all set.
What is the Difference Between Roku TV and Smart TV
Apart from Smart TV, there is also Roku TV which has emerged as a competitor in the television market. They seem to be very similar by the look of it but are very different in all aspects. Now the question arises, what is a smart TV and what is a Roku smart TV? 
Smart TV vs. Roku TV – The Key Differences
People usually get confused between these two types of TVs; therefore, we are here to help you know the key differences between them so that you can make a better choice.
The Working
Smart TVs are way ahead of your traditional cable-operated televisions. They work on operating systems that are provided by various television companies. You can access any online streaming services, including Netflix,  Youtube, Amazon Prime, and many more. You can also use your cable services on this TV to watch something like live sports. It's just like having a big smartphone placed in your living room.
How does Roku work, it also has an operating system called the Roku OS, but it is only exclusive to Roku TVs. Not only do you have access to free online streaming services, but you can also use your favorite apps and watch live broadcasting from various channels, which can be downloaded from the channel store on this TV. The interface of Roku TVs is known to be much simpler to use without any hassle.
Audio & Video Quality
TVs' audio and video quality mostly depend upon the television company more than a direct comparison between Smart and Roku TVs.
Smart TVs still have a slight edge over Roku TVs in terms of better video quality. Roku supports video quality only to 4K resolutions, while Smart TV's surpass 4K and more. But in most cases, 4K resolution is good enough for your TV at home.
Processors
In a nutshell, we can say that most Smart TVs perform better than Roku TV's in terms of processing speed. But you really don't need an extremely powerful processing system on your TV just to watch movies and shows; therefore, both TVs are good enough in this aspect.
You can expect up to 1 GHz processors in Roku TVs and up to 1.3 GHz in Smart TVs.
You may also like: How to Get TV Reception Without Cable or an Antenna
Pricing 
Regarding pricing, it totally depends on the brand, the model, and the size of the TV you want. Smart TVs are more expensive in general when directly compared to similar types of Roku TV's. One of the prime reasons for that is that Smart TVs also come in higher resolution beyond 4K.
Sale
LG C1 Series 65-Inch Class OLED Smart TV OLED65C1PUB, 2021 - 4K TV, Alexa Built-in
LG OLED TV is a joy to behold– LG's 8 million self-lit OLED pixels turn on and off independently for content with deep black, over a billion rich colors, and infinite contrast for a viewing experience like no other
Make the impossible possible with the α9 Gen 4 AI Processor 4K- Engineered exclusively for LG OLED to automatically adjust your settings to improve picture and sound qualities based on what you're watching
Get in the action the way directors intended with Filmmaker Mode, and enhance every moment with Cinema HDR, Dolby Vision IQ and Dolby Atmos* for the ultimate home theater experience - Just add popcorn!
LG's Game Optimizer makes this great as an OLED gaming monitor—it's NVIDIA G-SYNC and FreeSync Premium Compatible for real-time action and virtually no screen tearing. LG Game Optimizer and HDMI 2.1 get you (and keep you) in the action
Mount it on the wall with a VESA 300 x 300 mount (sold separately). Magic Remote, remote control batteries (AA), power cable, and quick start guide. TV stand is sold separately
The Overall Experience 
While the operating system in Smart TV's varies with the different brands that sell smart television, the Roku TV has just one operating system, which is the same as all the TVs. This means it will be easier for Roku TV users to adapt to new updates or changes in television. Roku TV reviews suggest that they have a very well-defined and hassle-free interface which is very useful for even beginners who haven't used these types of TVs.
Smart TVs are not that friendly for new users, but they are definitely a great choice for tech-savvy people who want a feature-loaded product.
Which TV is Best for You?
The difference between Roku TV and Smart TV is not completely at different poles; they have more similarities than differences. But even the small differences matter when you spend your hard-earned money to get a suitable television set for your house.
If your previous TV was a traditional cable TV, you could consider buying a Roku TV due to its ease of use.
If you are looking for a TV that has good features at a budget price, then Roku TV is a good choice.
If you are someone who only watches movies and shows and does not need additional features.
Who should buy a Smart TV?
If you want the latest technology and features on your television, then Smart TVs are the right choice for you.
If budget is not your concern and you wish for the best product in the market, then Smart TVs can give you that quality and premium touch.
If you wish to use your TV for gaming, video editing, graphic designing, and many more features other than just streaming.
FAQ:
Conclusion
That was pretty much it from our side, and we hope you would have got a brief understanding of the difference between Roku TV and Smart TV. These TVs are fascinating and progressive, but they come with their advantages and disadvantages like any other electronic product. The final decision always stands with you; no one can make a better choice than you.