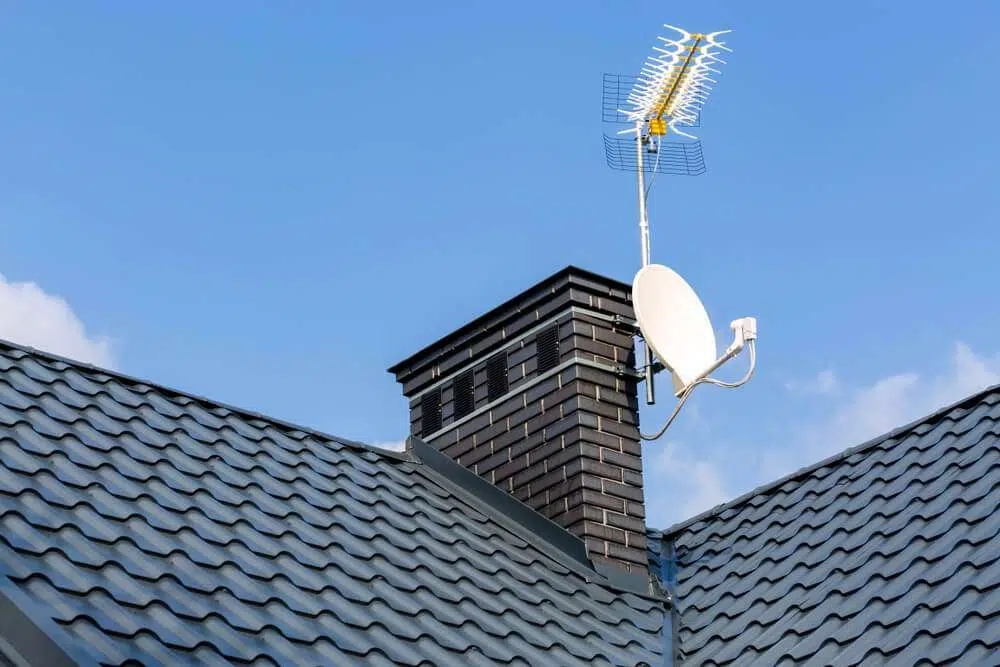 In a Hurry? Check Our Top 3 Picks
Our Top Picks for the Best TV Antennas for Metal Roof (A Product Review)
The RCA Outdoor Yagi satellite antenna gives you a bang for your buck!

It's an excellent value for your money. It has a very affordable price tag yet performs rather well. And if you don't want to call too much attention to your roof, this is the antenna for you.
You can hardly see the antenna, so it won't be an eyesore in the neighborhood. But you won't be disappointed with how many channels it can pull in. The pictures are amazing, and the sounds are uncompressed. It's like paying for a cable subscription, which you're not.
In addition, this comes in pre-assembled already, so all you have to do is fold it out. And since it has snap locks, everything is easy. It's for you if you hate DIYs.
Furthermore, it rarely gets hassled by the weather, even in the winter. It even works better than an active flat antenna. 
Features
70-mile range
Fold out and snap lock design
Semi directional
Comes with a mast and clamp
UHF reflector
True HDTV signal 1080 p
Why you should buy this antenna
It's an excellent value for your money. It has a great price yet strong performance.
This C curved antenna can get superior reception of both UHF and VHF signals.
The design of the GE PRO is built to give you the clearest reception. This C curved antenna is low profile, so it won't be such a hindrance to your neighbor's view. The directors and reflectors are aligned along the curve. 
It's a long-range antenna that can give you pure HDTV channels for free. So you can ditch your expensive monthly cable subscriptions. 
The unit came in neatly packaged. But do note that it comes in disassembled, so you have to do a DIY on it. Its installation can be tricky, and you might not be able to pick it up immediately from the instructions. So you can always look it up on YouTube. And you'll see video instructions on how to set up a GE Pro antenna on your metal roof.
Features
70-mile range
4k Ultra HD
1080P
UHF and VHF signals.
Comes with brackets and a mast
Why you should buy this antenna
It can pull in many true HD channels even when mounted indoors.
If it's more channels that you want,  you can make that happen with a 200-mile range outdoor antenna!
This outdoor antenna is such a beast. With its 200-mile range, it can pull in many channels, both local and HD. 
In addition, this antenna has several innovative features. One, the control is motorized. So you do not have to go out to change the direction of the antenna. You can do that with just a push of a button. Two, it has an intelligent gain technology pulling in digital TV signals. 
Also, you'd enjoy watching without the annoying noise. It has an LTE filter that cancels out the noise. 
Features
200-mile range
Motorized control
 HDTV 4K  
1080 p
Comes with 6 reflectors, an LTE filter, and copper coax
Why you should buy this antenna
With its 200-mile range, it can pull in many channels.
With its 150-mile range, this antenna works well in woody areas.
It's powerful that it can overcome obstructions in shady wooded areas.
Also, This antenna is pretty easy to install. It is assembled already, and you just have to unfold and snap it on. Furthermore, it comes complete with all the hardware and tools that you need. It even comes with a good quality coaxial cable. Pingdbingding is also most complete; all you just need to snap it on.
In terms of performance, the 150-mile range is impressive. It can pull in explicit pictures and clear songs. It even works in shaded woody areas. So even with obstructions, you can still get lots of clear channels.
Also, it has a remote control. So you don't need to access the ladder to change the direction of your antenna; quite convenient, eh?
Shipping and customer service were also excellent. The response time is amazing.
Features
Classic yagi design
150-mile range
360-degree rotational capability
Wireless remote control
Comes in assembled
Comes with a mounting pole and a 40-foot RG6 coax 
Why you should buy this antenna
Its 150-mile range can pull in clear and crisp movies.  Also, it's very easy to install and comes complete with almost everything you need. 
Lightning won't interrupt your viewing. The Vansky antenna has a built-in protection from lightning.
It's weather resistant and has a built-in protection from lighting. So your purchase is well protected and your viewing uninterrupted.
This long-range outdoor antenna is perfect for viewing two TVs simultaneously. This antenna eliminates the need to buy a special adapter. You can instantly use it for dual TV viewing. With its 150-mile range, it has impressive prowess and is capable of pulling in a lot of HD channels.
It has a remote control, so that's an additional convenient feature. 
Features
Has remote control feature
150-mile range
1080p
Comes with mounting hardware and coaxial cable
Why you should buy this antenna
It's weather resistant so that even lightning won't interrupt your TV viewing.
This aluminum antenna can receive clear signals at a fraction of the cost of your regular antennas.
Even if you're on a budget, you can still enjoy an array of clear channels with the Premium Boostwaves. It has the name premium, but it's quite affordable! 
Moreover, the streamlined structure of this antenna can perform better than other more expensive brands in the market. The simple and straightforward structure enables it to receive superior signal
Features
2-year warranty
VHF and UHF channels
44″ Long Solid Metal Construction 
1080 p HD
Why you should buy this antenna
If you're on a budget, you can still enjoy clear reception with this affordable antenna.
This antenna has a rather unique structure, but it has impressive HD receptions.
Even if you live covered by trees or in an area where you rarely get a clear perception, this uniquely shaped antenna is your solution.
In addition, it's easy to install. Those living in rural areas where cable signal is horrible will benefit from this antenna the most. When you're just getting 1-2 channels, you can get tons with this antenna. 
Features
75 miles
1080 P HD
Comes with 30 ft coaxial cable and mounting poles
Why you should buy this antenna
It has impressive pulling power and can receive signals from all directions. 
This antenna is mobile and can be used on any structure with metal roofs, including an RV.
If you're looking for a mobile antenna for metal roofs that really works, this is it. Also, it's a very economical choice. But despite the affordable price tag, it performs rather well.
It's lightweight and small. Though some may find it too small for their liking, it does come with a 10 ft coaxial cable. Despite its tiny footprint, this antenna works and never fails to drive clear signals.  And the cable doesn't need an adapter. You can instantly use it right away.
Features
Comes with a 0′ 75-ohm RG59 coaxial cable
Compatible with standard definition TVs and HDTVs
10 dB additional signal gain
UHF and VHF signals
Why you should buy this antenna
It performs well for its price. And even though it's compact and mobile, it never fails to deliver clear pictures and crisp sounds.
It's a 4k-ready antenna, so you won't need an upgrade soon.
The McDuory is already built to receive a new type of signal, the UltraHD. So you're one step ahead of the game. An upgrade is not likely needed soon.
Moreover, it's weather resistant and durable. So you can still receive clear signals despite a storm. Channels are flawlessly crisp and clear. It has a very good range too. 
Features
Traditional Yagi design
4K ready
1080 p resolution
150-mile range
Comes with a remote
UHF and VHF
Why you should buy this antenna
It's built to receive the newest class of TV signals.
This antenna can be raised up so it can get rid of interference better.
Winegard can be cranked up higher, installation is easy, and it's also easy to maneuver it.  This antenna is relatively lightweight too. And we find it durable and solid. The antenna is also coated with a powder finish making it more durable and weather resistant.
It's a basic antenna that you can also use for your RV. It can pull in tons of channels. And you will be impressed at how clear the signal is. 
Features
Made in the USA
55-mile range
UHF and VHF signals
2-year warranty
Comes with two types of coaxial cable
Why you should buy this antenna
It's a compact basic antenna that works on structures with metal roofs and RVs as well.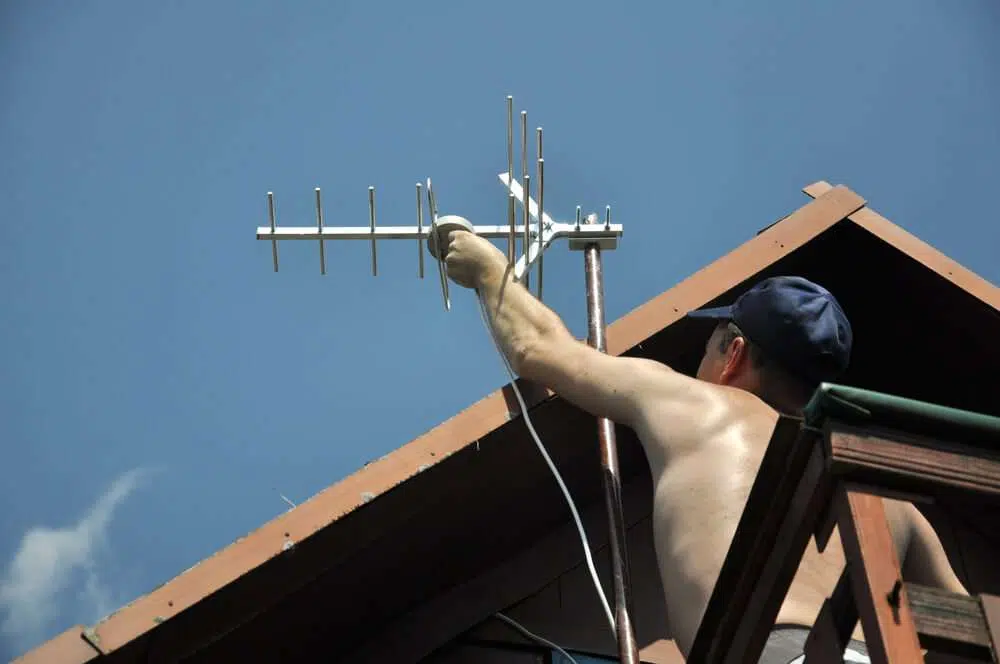 How to Mount TV Antenna on a Metal Roof
It can be tricky to install an outdoor antenna on a metal roof. It's metal, right? So there can be interference if it's not mounted properly.
And here's how to do it correctly.
Check the roof screws and see if it's in line with the screws of the tripod base that you're going to use.
 Remove the two roofing screws where you're going to place the tripod base.
Put silicone on the screw hole and around it.
Place the tripod base on the screw holes. Return the screws and tighten them correctly.
Put more silicone on top of the screws.
Loosen the screws on the tripod collar and insert the pole through the tripod collar. 
Make sure that the pole is in a vertical position. When sure, tighten the screws of the tripod collar.
Using a spanner, tighten the pole base nuts.
When installing the antenna, make sure that the top of the metal roof doesn't obstruct the line of sight of the antenna.
Effects of Metal Roof on TV Antennas
What happens when you mount an antenna on a metal roof? There is always a misconception that the metal construction of the antenna and the metal roofs don't go well together. And it could be a lighting hazard since those two materials can attract lightning.
Do metal Roofs interfere with TV antennas?
What is the real effect of metal roofs on TV antennas? A metal roof is actually going to make it more challenging for you to install an indoor antenna. And you'd also notice that you have a weaker cellular signal when inside a structure with metal roofing. 
That's why it's ideal to mount an outdoor antenna for metal roofs. Though some brands have enough power that they can be used indoors and still receive a clear signal, most brands on our list are for outdoor applications.
Metal roofing can deflect incoming signals. That's why you get patchy viewing, or your old antenna won't even be able to pull even a single decent channel at all.
Things You Should Consider When Buying the Best TV Antennas for Metal Roof (A Buying Guide)
1. Signals
To get the best bang for your buck, get an antenna that is capable of pulling in both HF and VHF signals. Also, these antennas can pull in as many channels as possible. 
2. Range
Range dictates the prowess of an antenna. It tells of the distance that it can cover. When you're living in a rural area or a remote place, the range is of utmost importance. Unlike in the city, where transmission towers are just about everywhere, rural areas have houses that are located far from broadcast towers.
But take note that the bigger the range is, the more costly it will be.
3. Installation
Installing an antenna on a metal roof can be tricky. That's why you have to buy antennas that are assembled or pre-assembled already. So all you have to do is unfold and mount it on the roof. Disassembled antennas will cost you time unless you want to go do building blocks.
4. Quality
Getting tons of channels is one thing, but getting crisp, clear images is another. To get the best possible HD viewing, look for antennas that are HD ready. These can give 1080p resolution.
5. Material
The two more applicable materials for outdoor antennas are copper and aluminum. These are rust-resistant and are more durable. 
FAQs:
Can metal roofs cause interference even with an installed antenna?
A metal roof alone will not be the leading cause of interference, instead it will just worsen it. That's why most metal roofs have outdoor antennas. An open area won't give you any problems just as long as any part of the roof will not obstruct the antenna's line of sight.
Get an antenna with a good range. And mounting it in the ideal position is a must. It should be in the line of sight with transmission towers. 
Can boosters help?
Yes, boosters can help clear the signal your antenna is getting. It can also help cancel out the noise.
Conclusion
Metal roofs can amplify the interference that is already there. That's why you have to mount the best TV antennas for metal roof so that you can finally ditch your expensive cable subscriptions!