An omnidirectional antenna works great in finding and receiving signals from multiple locations. But since it works in various directions, there tends to be a lack of focus. And this can give you patchy signals. The best antenna rotator can help your antennas maximize their potential. 
It can help direct your antenna to where the broadcast stations are. And it can be done with a touch of a button via remote control. 
You don't need to install a second antenna to get clear signals. That can be an ugly sight on your rooftop. And we are already hearing your HOA calling you on it. See our top three picks in our Best Antenna Rotator review.
In a Hurry? Check Our Top 3 Picks
What is an Antenna Rotator?
An antenna rotator changes the direction in which an antenna is pointing. It can also change the antenna's orientation, either horizontally or vertically.
It's often composed of two units the controller and the rotor unit. The rotator is normally placed on the antenna mast, located below the antenna. In contrast, the controller unit is often placed near the equipment where the antenna is connected, such as your television. 
Overview

---
The RCA vh226f can give you the best bang for your buck. It can pick up clear signals even if it's 30 feet away from the control box. And it has a sweet price tag too. 
If you have large antennas and need a more solid rotator, the Channel Master CM-9521HD is the best option. It has a robust build that can withstand extreme temperatures.
The Yaesu G-450A is our best medium-duty rotator. It comes with a very nice tag, and it is also robust and heavy-duty.
Top 4 Picks for the Best Antenna Rotator (A Product Review)
You don't need to stack antennas if you have the best antenna rotator. It will also help your antenna get the best signal available in your area. Keep reading to see our top three brands.
This RCA antenna rotator can tick all the boxes on your checklist. It's a real value for your money too!

This outdoor antenna is easy to install and easy to program too. Clients also love how everything you need is included in the set. It has the hardware necessary to mount it to the mast. And it also has the hardware required to attach the mast to the rotator. And you'd also receive mounting clamps and U-blast that you need for the installation. 
The  RCA vh226f  has three parts, the remote control, the control box, and the rotator. All three components make this rotator one practical and efficient choice. The remote control can be used even if it's 30 feet away from the control box. Secondly, the control box has digital displays. It also has programmable memory so that you can store up to 12 TV or FM stations.
Third, the interior of the rotator is housed inside an aluminum casing. So rest assured that it's rust-resistant. That's why this antenna rotator can withstand harsh weather. Water can affect the efficiency of a rotator, but not this. You won't encounter such issues with the RCA VH226F. It can also withstand the hot summer season. It's well-sealed so that it can be reliable for a long time. 
This rotator can quickly move 360  degrees. And it can accommodate antennas up to 3 feet long.
It has a directional indicator, so you know where the antenna is pointed. And since it has 12 different positions, you can direct the antenna in 12 other locations. So that enables your antenna to pull in more channels than the competition. You'll also find the digital display very convenient. It shows where the antenna is directed and reflects the presets. 
Features
12 different positions
Infrared remote control
Digital display
Aluminum casing
It comes with u-bolts and mounting clamps
Why you should buy this antenna rotator
It's value for your money. This heavy-duty antenna rotator can be directed in multiple directions. Which can improve the efficiency of your antenna.
Look no further if you're looking for an antenna rotator with impressive programming abilities.
This antenna rotator is best for those who use a single outdoor antenna but can receive signals from all directions. It's also convenient for radio operators who need remote rotation. 
It can easily pick up local channels. And it's easy to move the antenna in all directions, either manually or by using the infrared remote control. 
As with any Channel Master product, this antenna rotator is exceptionally well built. It's robust and made of heavy-duty cast iron. And it's housed in aluminum material. So even if the weather isn't the nicest, it won't budge. It's also rust-resistant. And this is also one of the best outdoor rotators if you have large TV antennas.
So expect this antenna rotator to last. And even beginner DIYers will find this unit easy to install. The instruction manual is also easy to follow. Quite intuitive too. 
You can program this antenna rotator for different channels. It also works well with large TV antennas. It also comes with infrared remote control, so it's easy to change the direction of the antennas. 
And for a good brand, it has a very reasonable price. It might be everything you're looking for in an antenna rotator. 
Features aw
Comes with infrared remote control, power cable, control unit, and drive unit
Heavy-duty cast iron
Blue LED display
90 days limited warranty
Has built-in thrust bearings
Aluminum gray housing
Antenna rotor with friction brake
Why you should buy this antenna rotator
The programming ability of this antenna rotator is impressive. It's also durable and comes from a reputable brand.
2. Yaesu G-450A– Best Versatile Antenna Rotator
The Yaesu is a medium-duty antenna rotator that can give expensive brands a run for their money. It also has a unique waterproof design.
This Yaesu motor rotator is really efficient. It's also weather-resistant to hold up pretty well against the elements. 
Though this unit is not the most durable, it still works well. And for an affordable price, you would not be able to complain. It's more of a medium-duty rotator. But for its price, you won't be disappointed. It can rotate antennas faster than other premium models. 
The repeat accuracy is quite impressive too. In addition, It has a clamshell design with heavy-duty ball bearings. This design prevents water entry. And this can be great for the performance of the unit. You can expect the Yaesu to perform great, rain or shine. And also, you won't experience any glitches with the Yaesu. 
It's also ideal for   VHF and UHF antennas and even for small tri-banders. But for optimum results, the wind load equipment should be over 10 feet square. Otherwise, it should be mounted on a mast. 
Features
360-degree rotation
Can handle 200 lbs of vertical weight
Made of melamine and resin-coated aluminum
Clamshell design
Capable of azimuth elevation
Why you should buy this antenna rotator
It's a cheap antenna rotator that is faster than expensive models.
This is it if you need a rotator that can provide an extra range.
If you're living far from transmission towers, getting decent signals and channels, even from local stations, is frustrating. You've come to the right spot because this rotator can work even if you are located 70 miles from transmission towers.
You can also easily change the position of the rotator with the remote control. That way, you can get the perfect position for your channels. I almost forgot that this rotator could even work upside down. So you can install it most conveniently, and it will still work seamlessly.
That's why installing it on top of your roof will be no fuss. The instructions are also clear; it's a straightforward mounting with no issues or dramas whatsoever. 
Features
Long 150-mile range
Complete HDTV antenna that can support 4K
Can pick up 20 to 50 channels
Can rotate 360 degrees
Why you should buy this antenna rotator
You can enjoy up to 50 channels even if you live far from broadcast towers. This easy-to-install no-fuss rotator is very solid and sturdy too.
This easy-to-install complete system is perfect for newbies.
The whole system itself is solid and reliable. And if we focus on the rotator, you can see that it's a good value for your money. It includes a coaxial cable, a remote control, poles, and an instruction manual. So it's excellent for newbies because it's an all-in-one kit.
The rotator operates on a built-in motor. So it will be easier to find the optimum location for better signals. The rotator of this antenna can even support two television sets without a splitter. 
Features
One year warranty
150-mile range
360 degrees
It has a high and low-gain noise amplifier
Why you should buy this rotator
It's a complete kit and easy to use. So it's the ideal purchase for newbies and those who are not much into DIYs.
What to Consider When Buying the Best Antenna Rotator (A Buying Guide)
Before buying an outdoor antenna rotator, hover through our checklist first. That can help you get the most value for your money.
1. Weather-resistant
Since you're going to mount the antenna rotator outdoors, it's only sensible that it should be weather-resistant. This would ensure that the unit will perform well, rain or shine. It also helps if the unit itself is waterproof. Because once water seeps into the unit, it can significantly affect its performance and longevity,
2. Braking ability and turning torque
Braking ability is the maximum wind force the antenna can withstand. Whereas torque refers to how much torque the rotator needs to turn the antennas.
3.  Vertical load
Some antenna rotators, such as the Yaesu, can turn the antenna into a vertical plane. And these rotators will specify their maximum vertical load capacity.
4. Rotator size
Rotator sizes come in small, medium-duty, and large rotators. Small rotators are suitable for small Yagi's. And these rotators won't be able to hold an antenna with a significant load.
Medium duty antenna rotators are suitable for midsize HF Yagi antennas. These antennas are equipped with a few elements and weigh less than 50 lbs.
On the other hand, large rotators can handle the biggest amateur HF Yagi antennas. 
And note that the bigger the rotator, the higher its capacities are.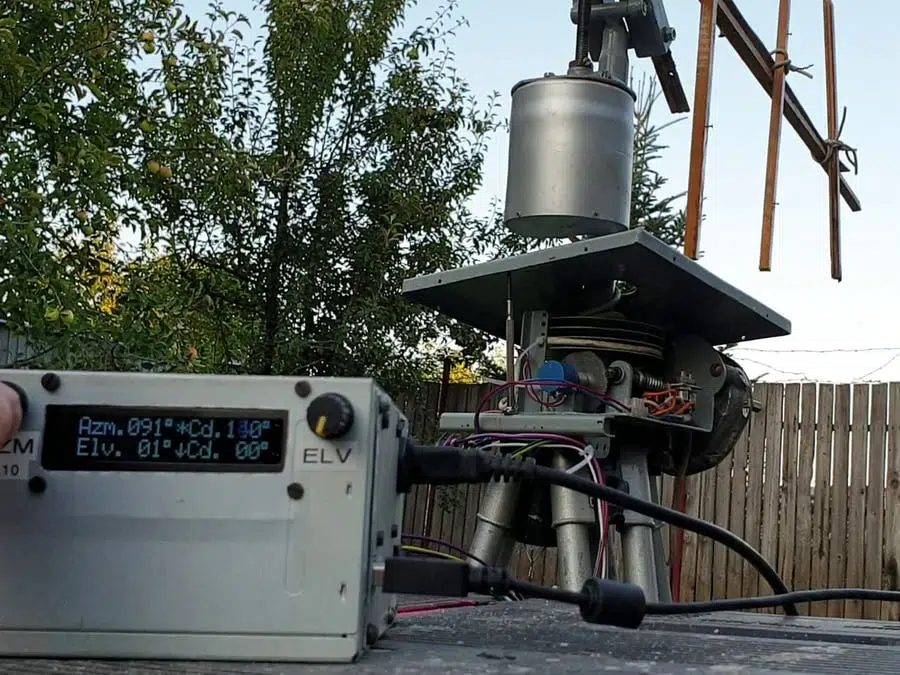 How Does an Antenna Rotator Work
To understand how an antenna rotator works, let's look at the two main parts of the unit- the drive unit and the control unit.
The drive unit contains the motor. The motor supports the mast and turns the antennas.  On the other hand, the control unit is connected to the rotator's drive unit via rotator cables. It's often placed near the TV.  
The rotator cables will connect the drive to the control unit. The three cable cords convey information to the drive unit.
Most rotators nowadays are equipped with remote control. And this is what you'll use to change the direction to where the antenna is pointing. The controller features left and right buttons to change the position of the antenna, one degree at a time.
How Do You Install an Antenna Rotor?
We will round down the basic steps to install a rotator motor. But also read and follow the manufacturer's manual. There may be steps specific to the rotator brand you're using.
Before we head on to the installation, here are some tools that you need for the setup: rotator cable, support mast for drive nit, U-bolts and mounting clamp, cable ties, electrical tape, standoff insulators, sealants, thrust bearings, and guy wires, compass, screwdriver, and an adjustable wrench.
Remove the antenna and attach it to a small section of the mast. Do not remove the mast from the base; keep it fastened.
You must put the drive unit of the rotator on top of the base mast. So the existing mast should have a decent length. It must not be too long than what's needed for the unit to rotate. 
A large antenna may need a 3 ½ ft mast. And if you have a shorter antenna, just cut the mast in half.
Remove the old transmission wires from the antenna terminal. Then attach the new transmission wires.
Attach the rotor wire to the rotor's drive unit. To do this, remove the access plate at the bottom of the drive unit. 
Rotor wires have three cords. Connect the red wire to terminal 1. Then connect the black wire to terminal 2. Then the yellow or third wire should be connected to terminal 3.
Cover the connection with an insulating material. Then return the access plate to the rotor drive. 
Using C clamps, attach the rotor housing to the base mast. Rotate the housing until the access plate faces you. Then fasten it in place.
Position the shorter mast above the rotor motor housing. Ensure that the antenna terminals are positioned on the opposite side of the rotor housing terminals. You can keep on rotating the unit until it reaches the proper position. Then fasten the connection. 
Attach a two-wire standoff on the base mast. This is about 4-6 inches below the rotor housing. Then attach the antenna wire and the rotor wire to the two portals of the standoff.
 You might need an additional wire standoff depending on the antenna's distance to your house's entry point. Ideally, a standoff should be installed at a 10-foot interval.
Drill holes so you can run the antenna & rotator wires into your house. Alternatively,  you can loop them through the windows if you don't want to drill holes.
Connect the antenna wire to the TV terminals at your TV set's back.
Connect the rotor wire to the rotor's control unit. 
Synch the control unit to the rotor drive housing unit. Plug in the control unit, then turn the knob clockwise. Allow the antenna to rotate until it comes to a complete stop.  
The control unit will make a clicking sound while the antenna is rotating. Once the antenna stops rotating, turn the knob counterclockwise. Allow it to rotate until it comes to a complete stop. This is the end of the synchronization process. And you're all set up!
Your motor antenna can take on some abuse. But if it's too much, it can break. And these are not necessarily cheap, so it is better to use them properly. Here are several tips on extending the life of your rotator motor.
1. Be gentle when turning in from the reverse direction
Give your antenna rotator a break. Give it a few seconds before changing the rotation direction. Don't go full counterclockwise if it came from the other direction. Let it stop first before rotating it in the reverse direction.
2. Do not use a long mast pipe. 
To minimize stress on the rotator motor caused by longer mast pipes cut down on the length of the pipes between the rotator motor and the antenna.
You may also like: How High Should a TV Antenna be Mounted
3. Even if your rotator is rated weather-resistant, you can also put a shelter over it. 
You can make a DIY umbrella using a funnel painted with UV coating. This will help your rotator motor bear the harsh elements better. And in cases of heavy rain, you're sure that water will not seep into the unit. 
Pros and Cons of TV Antenna Rotators
Here are the reasons why you should get an antenna rotator:
1. You no longer need to stack antennas
When a single antenna cannot get you a clear signal, getting a second one seems to be the most viable solution. And then, you have to stack the antennas on top of one another to get the best result. And it can look hideous on your rooftop.
An antenna rotator will eliminate the need to do this. Instead of buying a second antenna, you'll just need to install the rotator on the antenna mast. It will look cleaner and cost less than buying a second antenna.
2. Ease of operation
Most rotators come with remote controllers. This makes it easier to navigate the antenna. You just need to click the button.
3. Can get clear signals from multiple directions
Even if you have an omnidirectional antenna, you can still get blurry signals. Your antenna can receive signals from various approaches, but it can be blurry or patchy. Because there isn't any focus, you won't get clear signals. An antenna rotator helps make the signals received from multiple directions clear and crisp. 
And of course, there are some cons too.
1. It's not automatically synchronized to your TV. You must scan for channels independently. 
2. It will direct the antenna towards the same stations for all the TVs in your house.
How to Operate a Rotator
Your antenna rotator will help your antenna receive the signals more clearly. But how to operate your antenna rotator?
The first thing that you have to do is set up the rotator motor. Install the device unit to the antenna's mast located below the antenna. You also must read the instruction manual for the brand you are using since installation may vary per brand.
You can also use a signal search map to help you direct the antenna to the location of the broadcast towers.
Once the setup is completed, you can put the broadcaster's location on your control box. You can either use the controller for it or do it manually. 
Consequently, the rotator will point the antenna in the direction that you have indicated on the control box. 
FAQs
Are there wireless antenna rotators?
Yes, there is. As there are wireless antennas, there are also wireless rotators.
Do you need to waterproof the rotators?
Even If your rotator is weather or water-resistant, waterproofing it can lengthen its life. It can also ensure that the unit runs efficiently, rain or shine.
Do you need to ground the rotator?
Remember that
grounding the antenna
and grounding the rotator are two separate things. You should always ground your antennas. There isn't much need to ground the rotator. One of the rotator's wires already serves as a grounding wire. Although, it is advisable to turn off the antenna in cases of thunderstorms.
Conclusion
The best antenna rotator can enhance the performance of your antenna. It's also straightforward to use. The remote control is all you need to navigate and change the position of your antenna. 
You don't need to buy a second antenna. And stacking it on top of the first one is such an eyesore. Plus, a rotator is a more economical choice. 
And we have picked the best rotators that are easy to install, more versatile, have several mounting options, and are a good bargain for their price. So everyone will find one that's suitable for their homes.