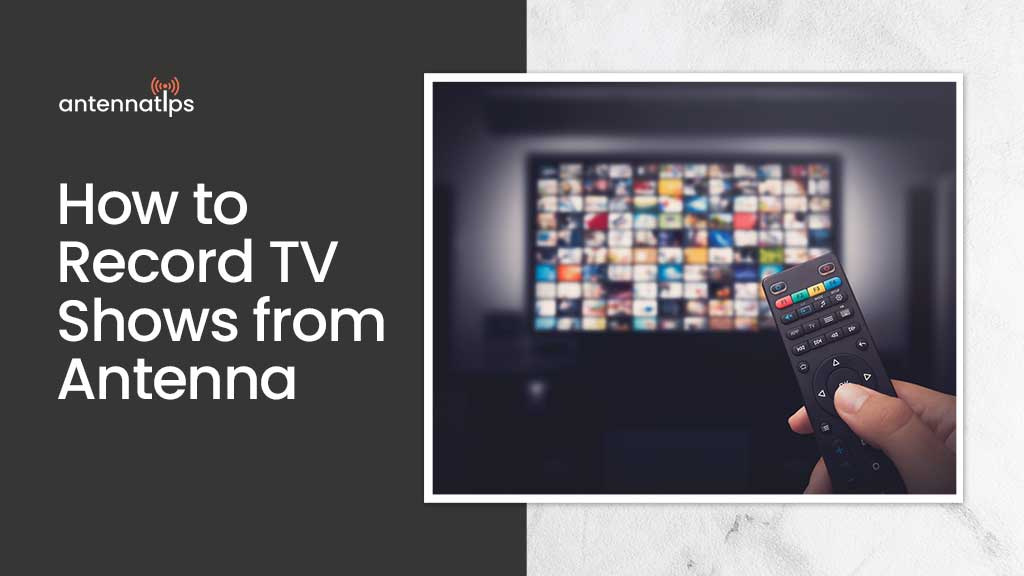 Just because you're out of the house doesn't mean you can't watch your favorite primetime TV shows. Learn how to record TV shows from the antenna so you do not have to miss a single episode anymore.
You may even be able to record free HDTV channels. So you can watch as you please while still being able to work. Sounds neat right? 
You bet it is. So today we're going to teach you how you can record over the air TV shows. Don't delay and start scrolling!
How to Record TV Shows from OTA Antenna using OTA DVR
Can you record TV shows from your antenna? You'll be surprised at how easy it is to do so. 
One of the perks of a cable tv subscription is that you can pause, rewind, and record over the air TV channels. But the good news is, you can also do the same with your OTA antenna. 
How you may ask. We need to use OTA DVRs for this one. And here is how.
The first step is to get your hands on good quality OTA DVRs. And we have dedicated an area in this article for that.
Check and confirm what channels are available in your area. There are several resources on the internet that you can go to check for the channels in your area. You can try this tool. All you need to do is put in your zip code and it will let you know what channels your antenna will be able to pull in.
There are several models of OTA DVR. And get the one end of the coaxial cable that attaches to your TV and plug it into the coaxial jack of the OTA DVR.
You'll also be needing a hard drive. This is where you will store all your TV recordings. Some OTA DVRs have a built-in hard drive. Otherwise, a separate unit is needed.
 There are two ways to record TV shows. One, you can record shows by using an app and Bluetooth connection. And two, you can also record TV shows by connecting the OTA DVR to your TV. but you have to connect a coaxial jack on the unit. Let's break them down below
Using Bluetooth to record shows with your over the air antenna
Some OTA DVR units have a built-in Bluetooth function. If it does, you just need an app to be able to record tv shows. You don't need to connect your tv to the unit.  
One convenience of this is that you can place the OTA DVR in another separate room and it will still be able to pick up signals and record your favorite shows. You can pick the recording and play them using the app.
Some units can be used to play and record shows on your TV and other streaming devices such as a ROKU or an Amazon Fire TV.
Using the physical connection to record tv-shows
Then there's the second option, to physically connect your TV to the OTA DVR. You are going to plug the antenna straight into the DVR. But you also have to connect your DVR to your TV using another cable. 
What is an OTA DVR
These are devices that can record your broadcast tv channels for play later. It's quite convenient. Aside from being able to record your TV shows, you can also skip commercials and replay your favorite scenes. 
The recordings are stored on a hard drive. Some OTA DVRs have built-in ones. But some models do not. Hence, you have to buy a separate external hard drive and connect it to the unit. 
Is an OTA DVR for you
With an OTA DVR, you will be able to cut the cord and still record broadcast tv channels. But you have to note that most OTA DVR requires a subscription fee like DVR. But that's if you want to experience one with the full bells and whistles. On the other hand, if you're just looking for bare-bones functionality or just to simply record, pause and replay your favorite flicks, it mostly comes in free.
You'll just miss out on the fancy mobile features and program subscriptions.
What Is an Over the Air Antenna
An OTA antenna is specifically designed to receive over the air broadcast signals from a television station. If you are wondering how it differs from an HDTV antenna, there might be a very slight to no difference at all.
One, the over air antenna or regular antennas can also  pick up digital TV signals. And it will all depend on where you are located and how far you are from transmission towers.  The only difference perhaps is that digital antennas are more forgiving when it comes to antenna placement compared to over the air antennas.  
What is a DVR
DVR or digital video recorder can store contents that are recorded from the TV provider.   Cable brands often offer a set top box that includes a DVR. This is perhaps one of the advantages of a cable subs. You can record your favorite TV shows. 
But if this is the only thing that's holding you back from cutting the cord, you can now do it so bravely. OTC DVR functions in almost the same way as a DVR. Except that you do not need cable subs to do the recording. Your OTC antenna will suffice. 
What is an Over the Air TV
Simply put, OTA TVs are television sets that are used to broadcast tv, local channels.  As opposed to cable TV, you only need an OTA TV and a digital antenna to watch local channels. There are no subscriptions or monthly charges. 
Over the air TV is a cheap way to watch local news, weather channels, and some primetime TV shows.
Our Favorite OTA DTR Units
So we're going to list our top picks. These brands can help you record your shows from your over the air antenna.
Amazon Fire TV Recast
You don't need a subscription to record your favorite TV shows. The Amazon Fire TV Recast also allows you to record, play, pause, and replay your favorite drama series using wifi. You can use it with your tablets, mobile devices, or stick fire tv.
Though it works best with fire sticks and a TV interface. And you will be able to record up to 2 shows at once.
It's pretty easy to use. You just need to download the app. Then hover through the steps on how to set up your Fire TV Recast. The app lists the directions in a very concise and easy-to-follow manner. And you're all set! You can watch your TV shows on compatible devices.
And also, the Amazon Fire TV mobile app will tell you the best location to place the unit so that it can pick up the most channels. So if you have Fire TV streaming media players and Fire TV Edition televisions, you should consider getting this one. 
Features
Store up to 75 hours of HD programming
Dual-core processor
2 turners or 2 simultaneous shows
Ports: 1 x Type A USB 3.0 (does not support storage), TV Antenna Input, Gigabit Ethernet, Power
Size: 7.1" x 7.1" x 2.9" 
TiVo Bolt
If you want the brand that got first onto the game, it's going to be Tivo. Tivo manufactured the first-ever OTA -DVR, then everyone else followed suit. And fun fact, Tivo also created the first ever DVR or digital video recorder. 
So you can be assured that the brand knows its business well. And what's swell is that you can record 4 simultaneous shows with the Tivo Bolt. and it also works with all types of cable TVs. 
Also, you'll be able to enjoy several streaming apps like HULU, Netflix, HBO Go, and Amazon Prime. But tivo will have a bit of a subscription fee. Along with the fee, you'll be able to enjoy functionalities that other units may lack. It features a quick mode and a skip mode.
The skip mode allows you to skip commercials. The quick mode, on the other hand, lets you play shows faster without the high-sounding pitch. 
Moreover, tivo is compatible with a lot of your devices. You can stream the shows on your mobile phones, laptops, or tablets.
Features
500 GB
4K resolution videos
75 HD hours
USB 2.0 ports: 2
CableCARD slot
Analog audio
Coax connector
Optical audio out
Built-in WiFi (AC dual-band, N, G, B, A)
External hard drive storage port
CableCARD Slot
Remote Finder
Coax (digital cable, ATSC, MoCA)
Optical audio out
Audio L/R
HDMI 2.0 / 4K, 1080p 24/60)
Tablo
Tablo is a bit different from the other models we have mentioned above. It records television shows using a USB external hard drive. And streams it to your media devices. It doesn't connect to your HDTV.
Moreover, Tablo does not have that traditional HDMI slot that most units DVRs have. It instead records shows via wifi connectivity. You may also be able to watch live TV on your mobile phones. All you have to do is download the Tablo app and follow the instructions. 
Moreover, Tablo complements Netflix and Sling TV content rather well. 
Features
Records 4 simultaneous shows
6 users can watch at the same time
Comes in two models- a 2 tuner and a 4 tuner
Channel Master DVR+
No products found.
What we love most about the Channel Master DVR + is that you can watch live television while you're recording another show. You can even record two live shows at that, while doing something else with this  DVR. So in terms of functionality, it's a big plus for us. 
It's also easy to use. You'll be able to quickly record a program without going through a learning curve.  You can also use the main menu for the search functionality. Though we find it quite a work to type in the search items on the menu on screen.
Overall, it's a reliable OTA DVR that's quite easy to use. Even if you're not  a techie geek, you can easily hover through it.  
Features
Works with all Digital TV Antennas
Dual tuners
Includes OTA DVR, Remote Control, WiFi Adapter, 6ft HDMI Cable
Dolby Digital Plus and PCM Audio Support
160 Hours of HD Content with Full DVR Functionality  with external hard drive connected
Final Say
If you don't know yet how to record your favorite TV show from your OTA antenna, you're missing a lot. You don't need to wonder what happened last season! Because you can record your favorite shows even when you're away. And it's so easy to do so with the best OTA DVR. 
You won't be remorseful cord cutters because you can still record shows without the USB cable. By the time you get home, you will be able to enjoy everything plus the full episode! You might even be able to skip the commercials or watch live TV!