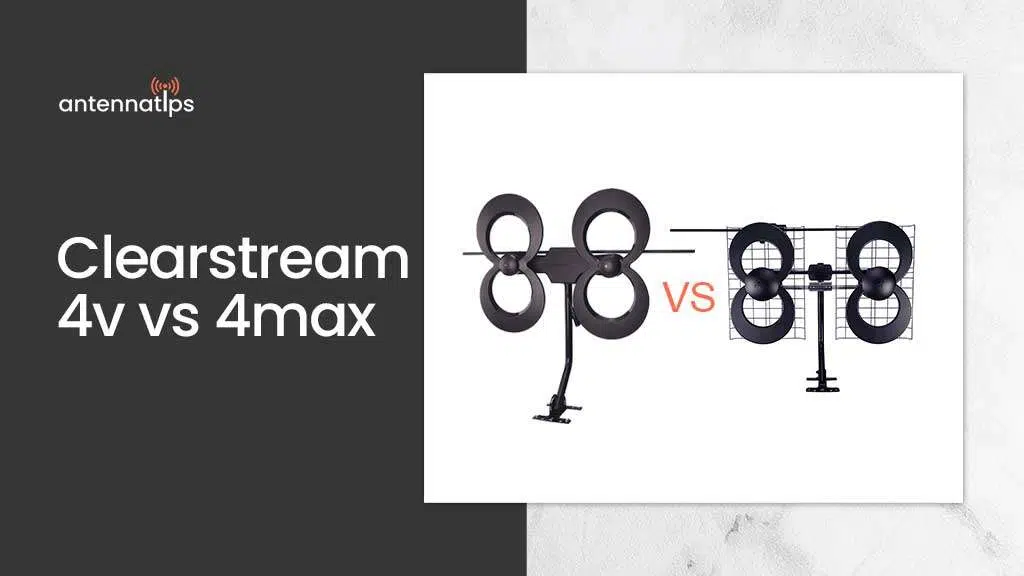 Clearstream antennas are one of the more preferred antenna brands on the market. Why not? These antennas are durable, tough, and suitable for area switch medium to strong TV reception signals. 
The brand offers a range of antennas.  The Clearstream 4v vs 4max are closely matched. But of course, there are also distinct differences. We will elaborate on the similarities and differences of each. Clearstream 4v vs 4max  which is better and which is more suitable for you? Let's find out!
Clearstream 4v vs 4max , What Makes Them Similar
Multi-Directional antenna
In reference to the Clearstream 4V vs 4MAX  antennas, both are multi-directional antennas. It means that they can receive TV signals from every direction. So this type of antenna is suitable in rural areas. And if you're not sure where the transmission tower is located, an omnidirectional antenna is your best option. You don't have to point the antenna to the line of sight of the towers.
And both antennas can also cover the majority of major broadcasts in the USA. 
Patented loop design
The patented loop design of Clearstream antennas makes them more receptive to a wider range of frequencies. This looped design also looks rather modern and fancy compared to the traditional Yagi Antennas.  
And since the antenna looped design has a wider beam, you don't need to rotate the antenna. It will automatically find alternative broadcast towers if there is congestion in a specific one. 
App compatibility
Both models are compatible with AntennaPoint. This is very handy. If you will mount your antenna horizontally, the app will point you to the location of the transmission towers. While you don't necessarily need to have an omnidirectional antenna in the line of sight of the broadcast towers, this can still help you maximize your antenna's potential. 
So why not take advantage of it right? You can also use the app to pause, rewind, and even record programs. So you don't have to miss a single episode again. You won't miss your favorite local channels such as ABC, CBS, Me-TV. NBC, Fox, CW, PBS, and Univision. And as mentioned above, depending on your location, you will also be able to watch 100 HD and 4k channels. 
Free channels
Yes, you can enjoy the same convenience of cutting the cord with the 4v and 4MAX. Likewise, you get to enjoy the same local and some HD channels available in your area. 
Similar features
In a nutshell, both models have the same range at 70 miles. And they also have the same gains for both UHF and VHF signals. In addition, both antennas are suitable in rural areas and spots that are surrounded by trees and hills.
And since they come from the same brand, you can also get the same accessories and same warranty.
What Makes Them Different
Design
Though both antennas are omnidirectional, you can still notice some distinct differences in their appearance.
Antennas Direct ClearStream 4MAX UHF VHF Indoor Outdoor TV Antenna, Multi-Directional, 70+ Mile...
. 
Though both models have 4 looped dipoles, you can instantly differentiate one from the other. The Clearstream 4V antenna has a mesh reflector on its back. And you'd be able to notice it from a mile away. 
Reflector
As mentioned above, the 4V has a mesh reflector and the 4MAX lacks this feature. Apart from the distinct difference in design, the mesh wire behind the loops can enhance the signal. This reflector can also reduce multi-path interference. So you can get clearer signals without the wiring noise. 
And this is where the 4V excelled. With the built-in reflectors, this model is better at bypassing interference compared to the 4MAX. This also means that you can get clearer signals at the front part of the 4V. But the signals at the back and sides won't be as powerful.
Beam angle
In terms of the beam angle, there is only a slight difference. The 4V has a beam angle of 43 degrees. And the 4MAX is slightly higher with 45 degrees of beam angle. The beam angle of both antennas is suitable for hilly areas where your ceiling height can be more than 8.86 feet.
For hilly areas, the suitable beam angle should be 45 degrees or less. So in this category, the 4MAX with a higher beam angle can work better in areas with high levels of dust or steam. Also, the beam angle affects the frequency range. In this category, the 4MAX has a slightly wide reference range of 470-700 megahertz. While the 4V has a frequency range of 470-698 megahertz, so there is just a very small fraction there.
Price
The Clearstream 4Max is a bit more expensive compared to the 4V. So you have to shell out a bit more moolah if you want this more compact and lighter Clearstream antenna model.
To round up, here are the features that you'll enjoy with the Clearstream 4V Antenna
Since it has a reflector, you get to have clear images and more crisp sound.
The 4V can pull in more channels compared to the 4MAX.
It has a more affordable price tag.
Strengths of the 4Max
And here is where the 4max excelled the most
1. It's a more compact design. And it's also more lightweight. So if you're concerned about how the antenna would look on your roof or if it would be a distraction, this model can be a better choice.
2. With the slightly wider beam angle, it can go beyond the 70 mile range. Thus, it can be more suitable for both indoor and outdoor applications.
So Here's Our Verdict
Which is better? It certainly is difficult to choose, but we based our choice on the different features and what would be of more value to your pocket.
Thus, we have to give it away to the Clearstream 4V. Despite that, it's a slightly bigger and heavier model, if you have basic DIY skills you will have no problem setting it up. And it's more affordable than 4max. And yet you can still enjoy a range of functions such as more TV channels and clearer images. 
But this bad boy won by a very small fraction! So the 4max will still be a good choice if you want to splurge a bit more. And if you want a more compact antenna, it can be a good option. A suggestion is to outfit it with a reflector so that it can receive clearer images and sounds from weaker channels. 
Clearstream 4V vs 4max , How Many TVs Can I Connect to My 4V and 4MAX Antenna's?
Technically, with the Clearstream 4v vs 4max  you would still be able to attach 2 to 3 TVs to either of these antennas. But keep in mind that the more TV's you attach using a splitter, the more chances the signal can be weaker. So if it results in a loss in the channel, you should decrease the number of TVs that you use simultaneously, or at least invest in a

Or should you still want to connect multiple TVs to your antenna, you should opt to outfit your 4v and 4max antenna with an amplifier. 
How to Choose a TV Antenna for Hilly Areas
1. Which channels are available in your area?
The first step in knowing which brand or model of the antenna to get is to check which channels are available in your area. 
You can hover through TVfool.com to have a good look. This is very handy and can pretty much give you a good idea of which broadcast channels can reach your homes. So you won't be wasting money on an antenna that can't do the job.
2. Which channels do you want to watch?
Now, compare the channels that are available in your area vs the channels that you want to watch. This is like summarizing what channels your antenna should be able to pull in. There's no use if your antenna can pull in a channel that you don't even watch, right?
Now make a list. In one column, write the channels that are available in your area, and in the second column, write down the ones that you want to watch. Then check Tvfool.com's result. It will show a chart, which can be intimidating to evaluate at first. The channels will be shown in colors, red, yellow, and green, Green has the strongest signal while red has the weakest.
You may also like: Clearstream 2v Vs 2max
3. Decide which antenna to buy.
The green signal on Tvfool.com can be received by a simple antenna. While you can watch channels reflected in orange with a larger antenna mounted outdoors or in your attic. The good news is, with a powerful roof antenna, you will still be able to watch the channels reflected in red. 
But keep in mind that if you live in hilly areas or if you're living away from the metropolis, there will be more red channels. Thus, you need an omnidirectional antenna.
Conclusion
Clearstream 4V vs 4max , which is better? The Clearstream 4V Antenna is the winner by a slight difference. We also chose it because it can save you more money. And it's all about saving money these days! Nevertheless, these Clearstream antennas are both suitable if you are living away from the broadcast towers.