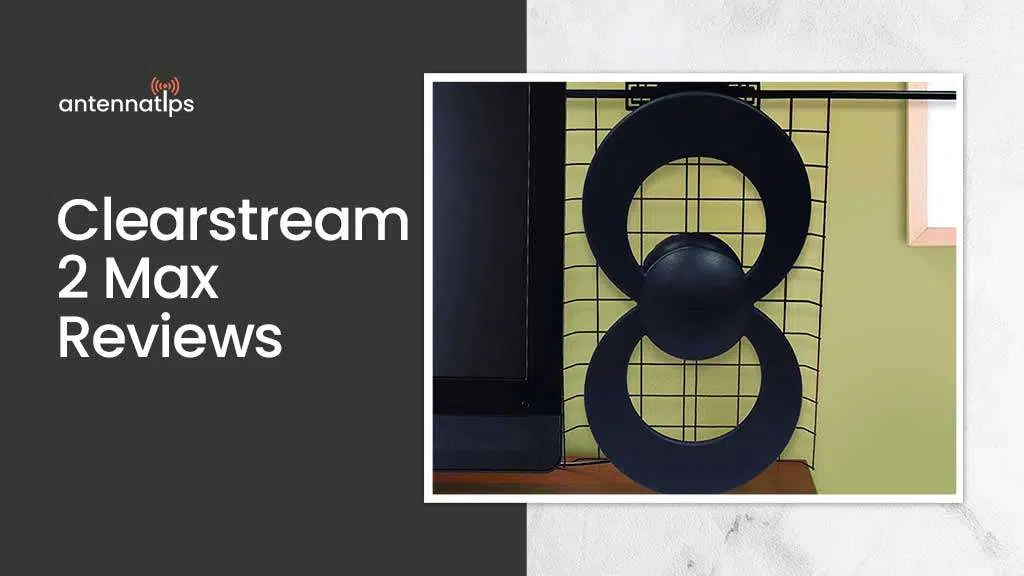 If you live in an area surrounded by thick foliage and hills, you need a robust antenna that can overcome these interference. Not to mention, if you live far from transmission towers, it can be challenging to even watch clear local channels. 
The Clearstream 2 max may be your answer to cutting the cord! This omnidirectional antenna can give you access to clear channels, including HDTV. So let's see how well it fared.
What Can You Expect With the Clearstream 2 Max?
Let's head over to the core of our reviews. 
The Clearstream 2max is a multi-directional antenna. This type of antenna can pull in signals from various directions. Compared to a directional antenna, it can find its way through signal congestion. But of course, it can have its flaws too. 
Now, let's take a look at what the Clearstream 2 Max has to offer. And let's see how it can benefit you. 
Features
Clearstream2 max 
Type: Multi-Directional antenna
Warranty: Lifetime limited 
Accessories included: 20 in mount, all-weather minting hardware, instruction manual
Channels: UHF/VHF
indoor/outdoor HDTV (1080) antennas
Max range: 60 ft
The Good
Elegant design
The circular design of the antenna is quite stylish. This round design can fit a modern home. Like most multi-directional antennas, it veers away from the straight rectangular shape. Though it's bigger than the regular flat indoor antenna, it sits upright so it won't take up much space despite its big size. 
So it won't be such an eyesore should you mount it on your rooftop. You also won't encounter problems with your HOC. And your neighbors won't mind this elegant and stylish antenna.
The round ring picks up VHF channels, while the parallel cord at the top can pull in UHF signals. 
2. Easy installation
The Clearstream 2 max is quite easy to set up. Though it would also depend on your handiness, many will find it easy to assemble. Easy and quick installation is perhaps one of the strengths of this antenna. It can be installed easily out of the box. And it's very convenient to connect it near the TV.
3. Can pull in signal from a lot of directions
Since it's an omnidirectional antenna, it can rotate. So if there is congestion in one transmission tower, it can find other broadcast towers to connect to. That's why this antenna is ideal if your home is not in the line of sight of any transmission tower.
This also makes this antenna ideal for rural areas. You don't need to rotate the antenna since it can find alternative broadcast towers if one is already congested. It even performs well in hilly areas. Or even if your home is surrounded by thick foliage and trees, this antenna can still receive clear signals.
4. UHF and VHF signals
When purchasing an antenna, this should be one of your primary considerations. It should be able to receive both UHF and VHF signals. So you can enjoy more channels, even HD ones The Clearstream2 max can receive both. And it's pretty impressive at how clear the signals are despite the weather. You can even receive full HD channels, depending on your location. 
5. Versatile and tough
This antenna can be mounted on your rooftop or in the attic. It can bypass roofing materials. So even if installed in the attic, you can still get clear signals. Also, rain or shine, you can enjoy watching your favorite soaps on TV. 
What could have been better
1. For some people who live in far-flung areas, you still might encounter some instances where signals can be patchy. But don't worry, it does not mean that your purchase is futile already. Instead, you can help point the antenna in the direction where the transmission tower is. 
You can visit antennapoint.com to see the location of the transmission towers in your area. Though you might argue that an omnidirectional antenna often rids the need to do this. But the clearstream2 max isn't rated for remote areas. But you can still make it work for you by doing some tweaks. The good news, users who manually positioned their antenna during installation were able to receive clear signals
2. This antenna is not the best for pulling in FM channels. This is one of the limitations of the Clearstream 2 max. 
You may also like: How to Turn an Old Satellite Dish Into a TV Antenna
3. The coaxial cable is sold separately. While this can be a hassle, it can also be a blessing in disguise. Most antennas that come with a coaxial cable have cheap RG 59 cable. So most of the time, you'll just buy a high-quality cable than use the free one. Remember, a high-quality coaxial cable can help boost your antenna's capability. So the lack of a cable, in this case, is not a huge miss.
4. For some homes, it's not advisable to mount it indoors. There are instances where an outdoor installation is needed. If you can't receive decent signals from your attic, it's time to mount it outside. 
Clearstream 2v vs 2max
If you are torn between the Clearstream 2v and 2max, let's take a look at what makes them different from one another.
Clearstream 2 max is easier to assemble than the Clearstream 2v.
Clearstream 2 max is more omnidirectional than the 2 v. Hence, it's more capable of bypassing congestion in broadcast transmission towers.
The Clearstream 2v has a 70-degree pickup path from the rear. The 2 max, on the other hand, has a 70-degree pickup path from the front and back
The 2 max is more capable to receive signals despite heavy roofing materials or thick foliages. The Clearstream 2v, on the other hand, might not have the same prowess. 
In a nutshell, our reviews revealed that the 2 max is more ideal in rural areas. Since it is more omnidirectional than the 2v, it can also work well in hilly areas. The 2v, on the other hand, maybe better suited if you're in the line of sight of transmission towers.
Clearstream 2max vs 4max
Now let's take a look at the major differences between the Clearstream 2 max and 4 max.
The Clearstream 2 max is for indoor or outdoor applications. Whereas, the 4 max is an outdoor only antenna. But both antennas are capable of receiving signals even in areas with thick foliages. 
The 4 max can give you more range than the 2 max. But the 4 max can be an overkill if you're located close to transmission towers.
For the UHF signals, the Clearstream 2 max has a 70-degree pickup path from the front and back. The 4max, on the other hand, 43-degree pickup path from the front and back. Take note that both antennas have the same VHF elements on them.
To summarize, if you're looking for a long-range antenna, the 4Max is ideal. With more reach, it's suitable for those who are living in remote and far-flung areas. But it can be overkill too. And it also bears a higher price tag.
Antop antenna AT 400 BV vs Clearstream 2 max
When it comes to outdoor antennas, these two brands are always included in most reviews online. Both brands perform well when it comes to bypassing thick roofing and foliages. They can be similar, but one can be better than the other. Let's spot some major differences,
The Antop can be quite heavy compared to the Clearstream 2 max. So some people might find it challenging to mount on their rooftop.
Both brands are weather resistant. But the Antop seems to be more durable when it comes to wear and tear. It's more robust and has a stronger build. That's why it has a heft to it too. 
The Clearstream 2 max is more affordable than the Antop.
In summary, the Clearstream 2 max is a more economical choice. It has almost the same capacity as the Antop, but at a more affordable price. But if you're living in areas where it tends to snow or rain hard, you might be better off with the Antop. 
The Clearstream 2 max is also ideal if you're looking for a compact outdoor antenna. Also, installation is a breeze compared to the Antop antenna. The Antop can be bulky. Not to mention, the installation is also quite tricky.
Conclusion
Our Clearstream 2 Max reviews revealed that the Clearstream 2 max is one of the best omnidirectional antennas for rural areas. It performs well, easy to install and versatile too. It gives you options to mount it in your attic or on your rooftop. And the affordable price tag is just too hard to ignore.