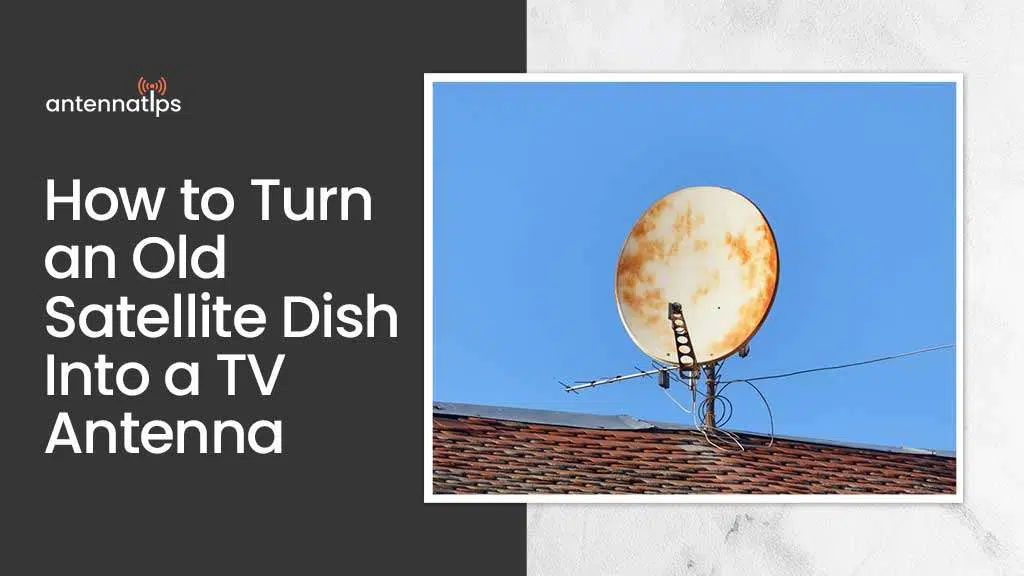 Oops! Wait – don't throw away that old satellite dish. I can show you How to Turn an Old Satellite Dish Into a TV Antenna. I'm serious, you can actually turn it into a TV antenna and enjoy some TV
shows like a cable owner!
We all have that old, stuffy, seemingly useless prop in our backyard. If we look at them closely, they're not useless.
Made of fiberglass, metal, or aluminum,  the satellite dish is a curved antenna that's actually designed for that sole purpose: to receive signals to be transmitted to the television. 
Judging from its aluminum/fiberglass material, satellite dishes are meant to last longer than you think. Anyway, you won't have to be using the dish, but rather the cable attached to it. 
So, don't throw that stuff away and do our tips on how to turn an old satellite dish into a tv antenna. 
Turn that signal on, and let's get going…
How To Turn an Old Satellite Dish Into a TV Antenna?
You can turn an old satellite dish into a TV antenna by doing some simple steps involving a few dismantling actions, some attachments, etc. With complete tools, following our simple tips, you can turn that old satellite or DirecTV dish into a TV antenna and enjoy your favorite TV shows tonight!
Here are some essential tools you will need for the revamp:
Does the old satellite dish-turned-into-antenna promise free TV shows?
No. Not the dish per se. The point of these tips is to use the dish's mast by attaching it to the already-fixed grounded coax cables. Once installed, the entire will have an HDTV antenna. 

The OTA/HDTV antenna is the one responsible for providing you with free TV channels. 
Let's not take you long; let's proceed finally to the tips…
Quick Tips on How to Turn an Old Satellite Dish Into a TV Antenna
Tip #1. Properly Dish Out the Dish 
Remove the covering from the tip of the dish arm. This is also called low-noise block (LNB). 
Look for and pull out the head of the coax cable hidden inside the dish arm. 
Dismantle this cable from the dish arm using a screwdriver. 
Keep the cable as you will be using it later. 
Unscrew the bolts to take off the primary dish material from the mast it has been attached. 
Do not throw away the dish as you can use it for several purposes in and outside the home.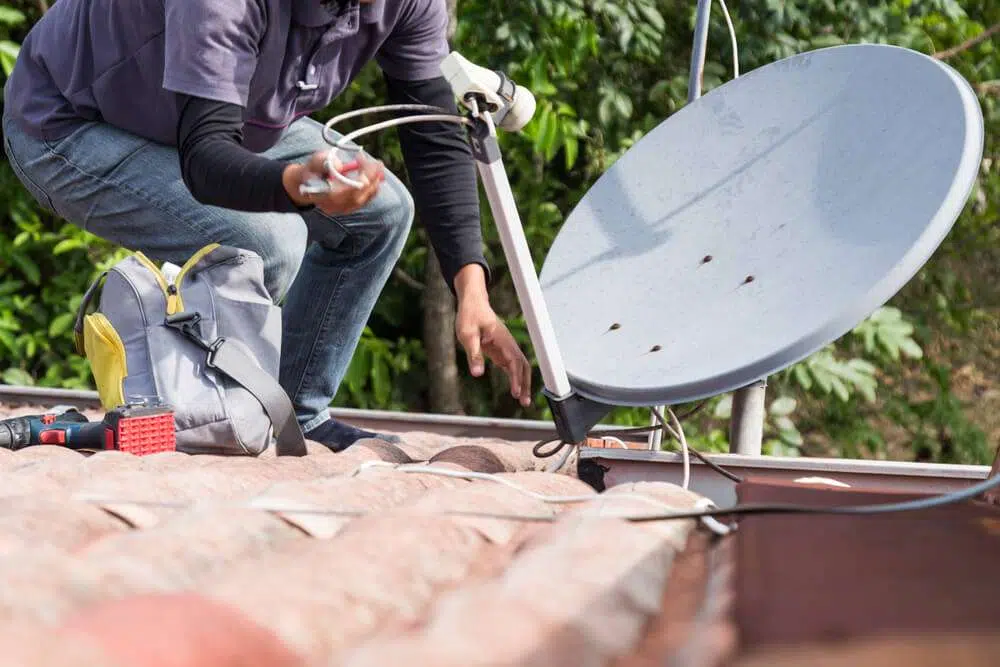 Tip #2. Set Up Your OTA Antenna
Refer to the user manual and our tips on how to turn an old satellite dish into a tv antenna to know how your antenna works.
Some OTA antennas are fully-assembled when delivered; some are not. For the antennas that need assembling, begin by securing the dipoles. Use a screwdriver to lock them in. Put in electrical tape for extra security. This should also maximize the uses of an old DirecTV satellite dish.
Use electrical tape to hold some wires appendages into the structure. Use a level tool to keep the installation at a perfectly-balanced angle. 
But how do I choose the best OTA antenna?
For you to be able to choose the best OTA antenna, determine first and foremost if it has the farthest range capacity to reach TV towers beyond the distance.
The second feature that you should be looking for from an OTA antenna is its directivity. Directivity is the OTA antenna's capacity to receive overlapping signals from one direction and resist signal interferences from the opposite direction.
OTA antennas come in quite a number of designs. It is essential to know what works for you based on:
The location of your home
The direction of signals via omnidirectional, unidirectional, or multidirectional sources
Feasibility of its reception range vis a vis the capacity of your cable.
Tip #3. Mount Your OTA Antenna. 
To complete the tips on how to turn an old satellite dish into a TV antenna, install your OTA antenna on the same mounting bracket that previously supported your satellite dish. 
If the antenna does not fit the mounting bracket, merge them using a fitting adapter instead.
Turn on your digital TV signal finder to make your own TV antenna.
Position your signal finder to locations where you feel television towers concentrate. 
Whenever the signal finder detects a UHF, its digital cells increase by 50%; if it detects a VHF, the rate increases by another 20%. But if it hits just the perfect spot (in-between VHF and UHF location), then it goes full 100. Although this rarely happens, so most rates would only settle within 70-80, it wouldn't hurt to try. Remember that the higher the rate, the more free channels are received.
Mark the exact direction where numbers ring high. Fix the antenna facing in that direction. 
Tip #4. Set Up a New Cable Link
Remember the coaxial cable you dismantled from your satellite dish? Connect its head to your newly set-up OTA antenna. 
Go to its receiving end (usually attached to the satellite receiver hardware). Unplug it. 
Now, transfer the receiver end directly to your TV. 
Enjoy…
Continue reading to hear our final thoughts…
Watch the video to do it in no time
FAQs
Can I buy OTA antennas from local stores?
Yes, you can. But, that would be very rare as the demand for antennas is relatively low.
Should I hire an installer to use the DirecTV dish as an antenna?
If you are pretty knowledgeable about the stuff, you can trust yourself to do it. However, if you are having doubts about your knowledge or courage (when it comes to climbing over the rooftop), then hire an installer by all means.
Is there a need to link my DirecTV satellite dish to the internet?
No. There is no such need.
In case I need a wireless internet connection via my dish satellite receiver, can I still do it?
Yes, you can. All you will need is a Wireless Cinema Connection Kit to do it successfully.
Final Thoughts
The old satellite dish in your backyard is certainly not useless. It comes especially handy with our tips on how to turn an old satellite dish into a tv antenna. You can also use it to maximize your HDTV (OTA) antenna connection to receive more free TV channels. 
Instead of throwing it away and polluting the environment with non-biodegradable stuff, reuse its mast to hold your all-new TV antenna in place. 
The actual dish material should not be thrown because it is incredibly useful for redecorating your indoor and outdoor space. 
The next time you come across this material, think again.