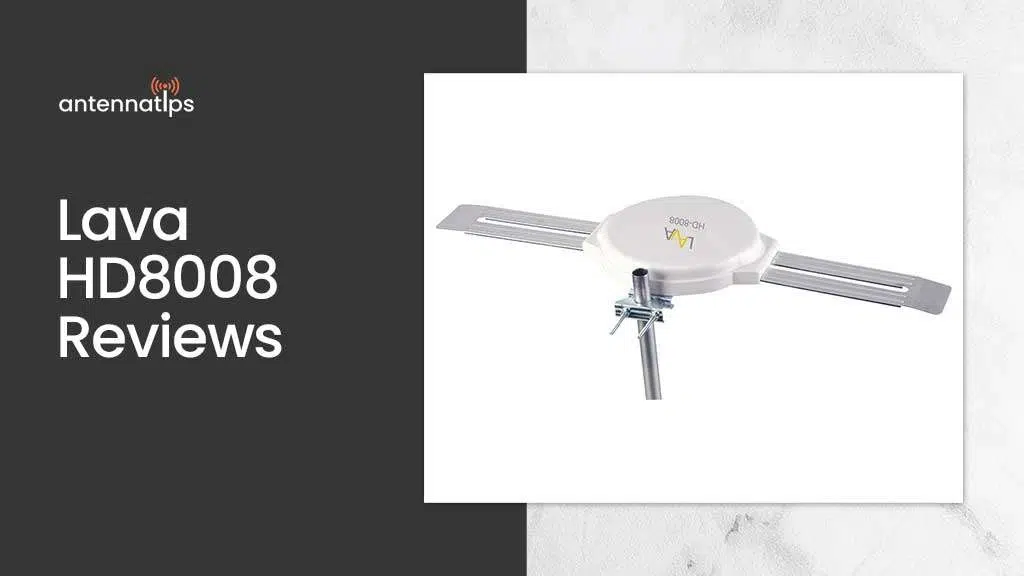 Monthly cable subscriptions can put a dent in your budget. And it's not every day that you get clear signals. So you're wasting a lot of money but not getting quality reception. And you don't even need to commission someone to install the antenna on your roof. Our Lava HD8008 Reviews will show you how easy it is to install an outdoor antenna!
It's omnidirectional and can pull in signals from all directions. It's definitely several times better than an expensive cable subscription. You might even think it was designed for beginners because you won't break a sweat setting it up. So stay tuned and read on our reviews. And see if it's worth your moolah.
An Omnidirectional antenna
We've mentioned above that this Lava antenna is multidirectional or omnidirectional. Let's discuss further the benefits of having one instead of a directional antenna.
You don't always need to point the antenna to the transmission towers
And you also don't have to research where the transmission towers are located. Since the antenna rotates on its own, it will find the exact location of the broadcast towers. So that can speed up the installation too.
Compared to directional antennas, omnidirectional antennas are more superior when it comes to bypassing signal congestion. If one broadcast rower is congested, it will automatically find another one.
If there isn't a clear signal from one broadcast tower, you don't need to reposition the antenna. It will automatically rotate.
If you're living in a metropolis, omnidirectional antennas are more favorable. Since the city is crowded, there will be congestion. And the city has lots of broadcast towers, so you can maximize the antenna's potential.
Frequencies
One of the factors that you should consider when buying antennas is the frequency. It should be able to receive both UHF and VHF channels. Otherwise, there is a limit on how many channels your antenna can pull in. So since you're installing one on your roof or attic, might as well make the most of it.   
Lava HD8008 can pull in tons of basic channels. Apart from your local favorite channels, it can also pull in several channels you never knew existed. So the more variety, the better. 
This Lava omnidirectional antenna is equipped to receive signals from these two frequencies. And apart from local channels, it can also pull in HDTV channels. So you're getting the most bang for your buck. You can enjoy clear HD viewing without having to subscribe to monthly expensive cable subscriptions.
However, to maximize the potential of this antenna, you can also point it to the line of sight of the transmission tower. 
Amplified antenna
It has a built-in amplifier and can help boost the capacity of your coaxial cables. It can also add more channels. Though if you are located very near the transmission towers, it can cause some distorting noise. 
However, it's easy to resolve this. When installing the antenna, you can make a quick scan for the channels that it can pull in. You can also check if the signal is clear. So if it's pretty clear, you may opt to switch off the preamplifier.
Versatility
You can use this antenna for digital TVs or on your old TVs. And you can get clear channels from both. So it's compatible with both digital and analog television sets.
Sale
Lava Omnipro HD-8008 Omni-Directional HDTV Antenna 360 Degree - Attic or Roof Mount TV Antenna for...
🏆【125 Mile Directional Antenna 】- We are proud to introduce the new LAVA OmniPro HDTV antenna. This outdoor TV antenna is rapidly taking over...
🏆【Crystal Clear 1080P Resolution】 - This antenna is the perfect solution for any rural or suburban area, with a range of about 125 miles. This...
🏆【Pick Up Free Local Channels】 - Families all across America are turning to our antennas and receiving their favorite shows from networks like...
🏆【OMNI Directional Picks up 360 Degrees】 - Depending on your location and media market, the number of channels may vary. Many of our customers...
🏆【100% Strong Digital Signals】 - This is the new digital age of antenna technology that has been around since 2007. All new and old TVs are...
Can Connect Multiple TVs
You can connect the Lava hd8008 to multiple TVs, a total of four to be exact. But there can be a downsize with the splitter. It can cause weakening of the signal. So to prevent this from happening, make sure that the number of TVs is equivalent to the number of ports. In that way, signal loss will be kept at a minimum, if not avoided. 
But since the antenna is built with a preamplifier, users rarely encounter a weakening of signal despite multiple TV connectivity. 
Very Clear Resolution
Lava HD8008 can give a resolution of 1080 p and it's also 4K ready. This means that you can get the best quality picture with no interference.
Lightweight Design
One of the most notable features of the Lava HD8008 is its compact and lightweight design. It veers away from the traditional bulky antennas that are an eyesore. And since it's compact, you won't have any problems with your HOC. You can mount it outdoors and you'll never hear any complaints.
Its lightweight design also makes this antenna very easy to install. If you're looking for a fuss-free outdoor antenna, this is on top of the list.
Let's elaborate more on some of the design features that make it stand out from a sea of omnidirectional antennas.
 Lava hHD8008 is equipped with a shield that blocks interference. That's why this antenna has amazingly clear reception with no noise or distortion of any kind.
The installation kit is pretty much complete with all you need. So you don't need to spend money buying them. You'd be receiving the following with your purchase-4 way splitter, 15 cable clips, coax cable with connectors, power adapter, waterproof kit, the unit itself, the frequency wings, and power insert)
Weather-resistant
It has a UV shield and it's also water-resistant. Thus, it can withstand the harsh elements. So you're sure that your purchase is protected. And it also comes with a decent warranty of 2 years. Most antenna brands in the market often offer either a 6 month or one year warranty. And other brands don't even offer any coverage at all. 
So with the above-average warranty period, the Lava hd8008 is value for your money.
What Could Have Been Better
The Lava HD8008 is sweet but. But of course, there are some things that we wished were better. 
1. Customer service
Most users complain of not being able to get a quick response from the brand's customer service. And some were not able to get in touch with anyone from the brand at all. A better after-sales service will put this antenna a notch higher.
2. Not that suitable for rural areas
Omnidirectional antennas have their limitations. Since they don't have a longer range unlike directional antennas, they are more suitable for urban areas. And since rural areas don't really have a ton of transmission towers, the rotating feature of the omnidirectional antenna might not be of much use. 
Lava HD Antenna Installation
This Lava HD antenna is pretty easy to install. Even beginners won't find it hard to. Allow us to show you how simple it is.
It comes in pre-assembled so you only even have to break a sweat!
Gather your tools first. You actually just need a screwdriver for the installation.
Make sure the box is complete with all the inclusions.
You'll see at the bottom of the main unit that there are 2 panels with 2 Phillips screws. Remove the Phillips screws on both sides. Set the screws aside. And remove the 2 panels.
Once the panels are removed, it will reveal 4 nuts. Remove the nuts. And set them aside.
Take the frequency wings. The wings have curved edges. Make sure that the curved edges are going to the bottom part of the antenna. Install the wings on the antenna using the 4 nuts. Use your hands to secure the nuts snugly. It's not advisable to use tools on this part
Re-install back the panels and the screws. Make sure they are tightly fitted. 
You can use a J pole to install the antenna on your roof. Or you may buy a ¾ inch to an inch pipe diameter.
Slide the U-bolt into the mounting bracket on the antenna. Install the U bolt using the wing nuts. 
Slide the U-bolt with the unit over the pole. Fasten it to the pole by tightening the wing nuts. Make sure it's securely tightened so the antenna won't fall off. 
Make sure the antenna does not move on the pole. 
Get your RG 6 cable. Attach the waterproof kit to the coax cable and wring up the coax cable. Install the coax cable to the coax connector at the bottom part of the antenna.
Slide the weatherproof kit up to the bottom of the coax connector that's closer to the antenna unit. 
Grab the other end of the coax cable. Connect it to the power inserter. The power inserter has two ends. Connect one portal end to the TV and then insert the other end to the coax cable connecting to the antenna. Use your hands to tighten it.
Connect the pigtail end and connect to the TV.
Get your adapter and plug it in. The LED will light up on the power insert. 
You can now start scanning your TV for channels. 
Should you need to connect it to multiple TVs, you can connect the splitter to the coax cable.
FAQs
Can I replace my old satellite dish with the Lava HD8008 
Yes, you can. You can place it on the same spot where your satellite dish used to be. You can also use the same mast and connect it to the same coaxial cable.
Do I need to ground the antenna if I am going to install it outdoors?
It's recommended to grind your Lava hd8008 antenna for roof installations. This will prevent static buildup during rains and thunderstorms. 
Do I need to ground the cables and the mast too?
Yes, for outdoor installations, it's advisable to ground the cables and wires.
Lava HD8008 vs 8000 – what's better?
The Lava 8008 is more capable of pulling in more HD channels. It has wider wings that can catch more VHF signals.
Conclusion
The Lava HD8008 is a real bang for your buck. If you're living in an urban area where there is frequent signal congestion, this antenna can help you override that. It's also very easy to install and it's almost intuitive. And it comes complete with everything you need for installation. 
 So we hope our Lava HD8008 reviews helped you decide if this antenna is a great fit for your homes.